Test your vision
What visual acuity do you have in the distance? Try it!
Download our template and print it out.
Secure the sheet on the wall at eye level and move back 4 metres (5 steps).
Try to see to where the circular opening is pointing. Remember the line that you can still clearly and easily detect.
Download template
test-for-visual-impairment.pdf (76 KB)
At which line could you no longer precisely detect the circular opening? The corresponding value describes your visual acuity for distance.

Visual acuity 1.2 to 1.5:
Congratulations! You have eyes like a hawk! However, you should not forget to regularly visit the optician or ophthalmologist to check your excellent vision.

Visual acuity 1.0:
You probably do not need spectacles. However, the eyes may change over time and the visual acuity may deteriorate. Therefore, timely examinations are advised.

Visual acuity 0.8:
This is the limit for safe driving. You should still have your eyes checked with the doctor or optician! Bear in mind that at night or in glaring conditions you have reduced visual acuity than in daylight.

Visual acuity 0.4 to 0.6:
Your visual acuity appears to be alarmingly low. Have your eyes professionally tested as soon as possible! You need spectacles, especially when driving.
Test for presbyopia
What visual acuity do you have in the immediate working distance
Do the self-test for an initial assessment!
Download our template and print it out.
Hold the page 40 cm from your eyes. This corresponds roughly to a typical reading distance.
Read through line after line. Remember the value before the last line that you can still clearly and easily detect.
Download
test-for-presbyopia.pdf (18 KB)
The value that you remembered describes your visual acuity for near vision.

Visual acuity 0.8 to 1.0:
Congratulations! These values represent normal to very good vision. Repeat the test regularly to check your visual acuity.

Visual acuity 0.4 to 0.6:
These values are considered "reduced" and you probably need spectacles. A professional test with an optician or ophthalmologist is recommended!

Visual acuity 0.1 to 0.32:
Values in this range are considered as "visually impaired". You should therefore visit an optician or ophthalmologist straight away!
Test for corneal curvature
A corneal curvature (astigmatism) occurs when a point is depicted as a dash on the retina. Do the self-test now!
Look at the four circles one after the other and observe the lines. Important: Do this first with each eye, then with two eyes together. You can then do the test with or without spectacles.
See clear, black lines in all circles?
If the lines appear blurred or unclear in one or several directions, this may indicate eye irregularities. In this case you should visit your optician or ophthalmologist. If you also detect the differences of the lines with your spectacles, you should have your spectacles checked because an uncorrected astigmatism reduces your visual acuity.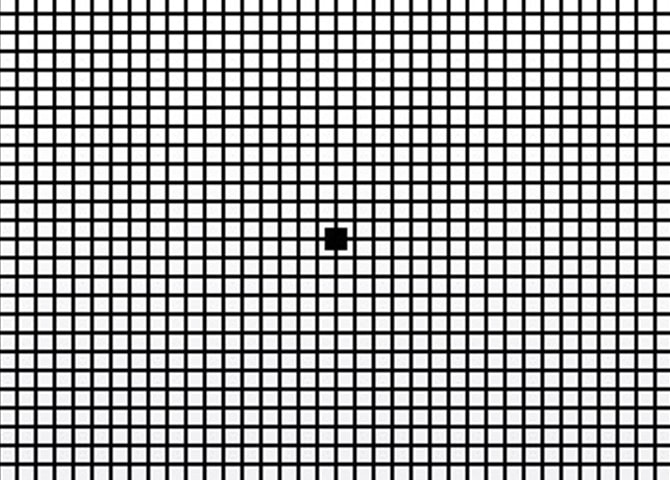 Test your retina function
The so-called Amsler test can detect dangerous retinal diseases. Test your retina function now!
Look at the image from 30 cm away. If you need reading spectacles, please wear them. Take the test first with both eyes, then with the right and left eye.
Answer the following questions:
Do you see the small black square in the middle of the grid?
Look at the square. Do you still recognise the entire grid network?
Are all lines of the grid network parallel and black?
If you answered one or more questions with no, you should arrange an examination with your ophthalmologist immediately: This can be a sign of an abnormal change of the retina. Important: Repeat the test from time to time!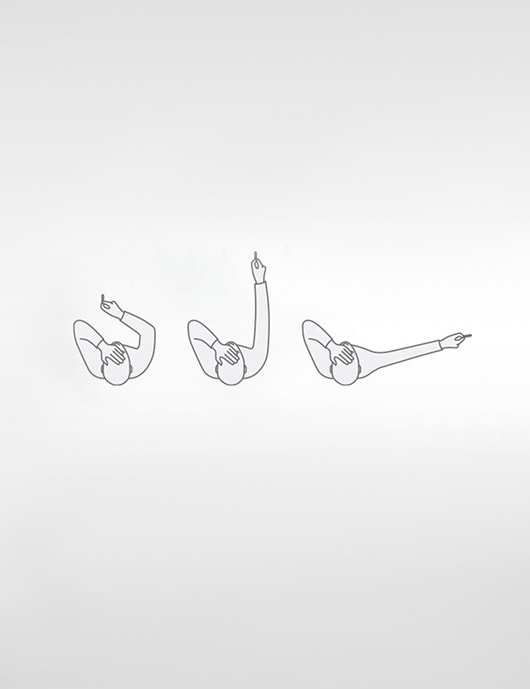 Test your field of vision
Individuals who perceive a rapid movement from the corner of the eye turn their head suddenly. This reflex allows us to respond to dangers in good time. Test how far your field of vision reaches now!
Important: Do not wear spectacles for this test! Take a pen in your right hand and hold it at arm's length in front of your face.
Cover the left eye with your free hand. Look straight ahead and maintain this viewing direction, while you slowly move the pen to the right in a crescent shape with the extended arm.
Stop at the point at which your pen disappears from your field of vision. If you have a normal field of vision, your arm should be at a 90° angle to the starting point of the movement.
Now guide the extended arm with the same movement to the other side of your body until the pen disappears from your field of vision. The angle should now be slightly smaller, roughly 60°, because the nose limits the field of vision.
If you think that you do not reach the specified angle, you should visit an ophthalmologist.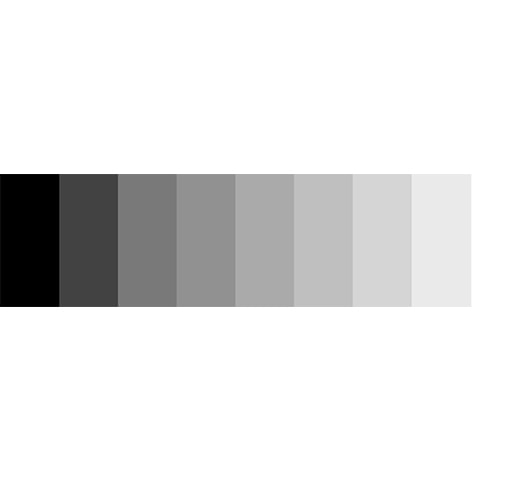 Improve your vision at a monitor
Configure your monitor for fatigue-free, better vision at work or in your spare time!
Do you see 9 different, clearly distinguished and varying grey areas? The left field should be completely black, the right completely white.
If this is not the case, change the brightness and contrast until you obtain the desired result.
• Take the time to ergonomically set up your workplace, e.g. seat height, monitor position, etc.
• Make sure you blink regularly to avoid dry eyes.
• Adapt the font size on the monitor so that you can read everything comfortably and without strain.
• Look away from the screen now and again or take little breaks, because short breaks guarantee relaxation of the eye muscles.
• Position the monitor approx. 50 cm from your eyes.


Your appointment request has been successfully sent to
You will shortly receive an email confirming the data that has been sent to the optician. The optician will contact you directly to set-up your appointment.
BACK TO HOME
Unfortunately your request could not be sent!
Please try again.