For lots of fun when playing and learning
Children's spectacles from Rodenstock.
According to statistics, roughly every fifth child needs a pair of spectacles. Today, children's spectacles not only correct poor eyesight, but are also really stylish. Teasing and nasty comments are a thing of the past. The children can also choose the spectacles themselves. The lenses should be made from plastic as it is more shatter-proof than glass.
Children's spectacles are more normal today than ever.
They assist children in leisure time and at school ...
… and are indispensable for development and learning success.
react early
Why not wait to get the spectacles until the child is a bit older?
Learning to see is like learning to walk, it happens automatically. But vision can only fully develop if there is a sharp image on the retina. If defective vision is corrected early on by spectacles, lifelong vision impairments that are no longer reversible can be avoided or reduced.

So that your child achieves the best possible visual performance, not only is a lightweight spectacle frame important, but also lightweight lenses that have been individually adapted to the impaired vision of your child.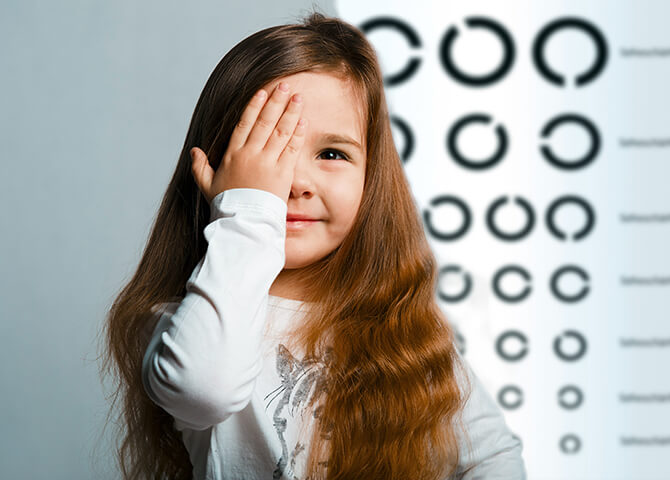 In doing so the children also detect the tiniest details –
Children's spectacles with Rodenstock lenses.
When it comes to our children, only the best is good enough. 100% German engineering brilliance and quality are in Rodenstock lenses. They are shatter-proof, perfect for playing and running around, and also provide protection. Millions of children are the proof.
Shatter-proof plasticPlastic material guarantees a high level of safety while playing
Extremely lightweight and thintherefore comfortable to wear
Optimal visionthanks to individual bespoke manufacture of the lenses
No bulging eyesthin lenses also in the case of high prescriptions
Light & elegant
Optimal wearing comfort and aesthetic appearance
Aspheric prescription lenses are characterised by a flatter, less curved and thus slimmer shape. This is particularly useful for individuals with plus prescriptions. Benefits:
45% lighter than mineral glass
20% thinner than traditional plastic lens
30% reduced magnification of eye area
The advantage
Extremely shatter-proof
Made from polycarbonate - very shatter-proof and resistant
How do I recognise if my child needs spectacles?
In general, it is recommended by opticians and ophthalmologists to have the statutory health and medical check-ups carried out. An eye test is also carried out within the framework of the U7a health check at the end of their third year. Another test that indicates any visual impairments is performed during the enrolment examination.

If you have the feeling that your child may need a pair of spectacles, you should watch out for the following distinctive features:

• Cloudy cornea
• Squint
• Frequent blinking/rubbing eyes
• Particular sensitivity to light
• Noticeable squinting of the eyes
• Uncertainty when gripping and grasping
• Incorrect assessment of distance to obstacles
• Headaches, fatigue, poor concentration


Many visual impairments are hereditary and can be corrected with timely detection. If parents or siblings have eye diseases, the paediatrician should transfer the patient to a specialist ophthalmologist between the 6th and 12th month of life.
Did you know?
Once a spectacle wearer does not mean always a spectacle wearer.
Spectacles do not necessarily have to be for life. Many young children need spectacles, e.g. if they have a squint. It may transpire that they no longer need these spectacles later in life because the imperfection was permanently corrected by the early wearing of spectacles.
Your appointment request has been successfully sent to
You will shortly receive an email confirming the data that has been sent to the optician. The optician will contact you directly to set-up your appointment.
BACK TO HOME
Unfortunately your request could not be sent!
Please try again.