Sun protection lenses in Rodenstock quality
It is Rodenstock's mission to provide sharper vision for all spectacle wearers - this also applies to sunglass lenses with and without prescription. With the innovative sunglass lens technology "Lambda Lens Technology", Rodenstock offers high-precision, contrast-enhancing sunglass lenses that optimise the colours that the lens transmits, thereby increasing contrast perception.
Full UV protectionfor full protection of your eyes
Available in individual prescriptions and a wide range of colourstailored to your personal needs
High precision sunglass lenses,that protect the eye without compromising visual details.
Colour and contrast enhancementfor sharper vision, better depth perception and more detail sharpness
Variety of colours
Sunglass lenses that suit you
Give your sunglasses that certain something and choose the lens colour that suits you best from our large colour portfolio.
Lens colours not only differ visually, but also bring different advantages, as each lens colour has a different contrast level. While grey provides a more natural colour perception, brown creates a warm colour feeling and offers an even stronger contrast perception.
Take a look at our variety of colours and their respective characteristics in our contrast index.
Rodenstock contrast index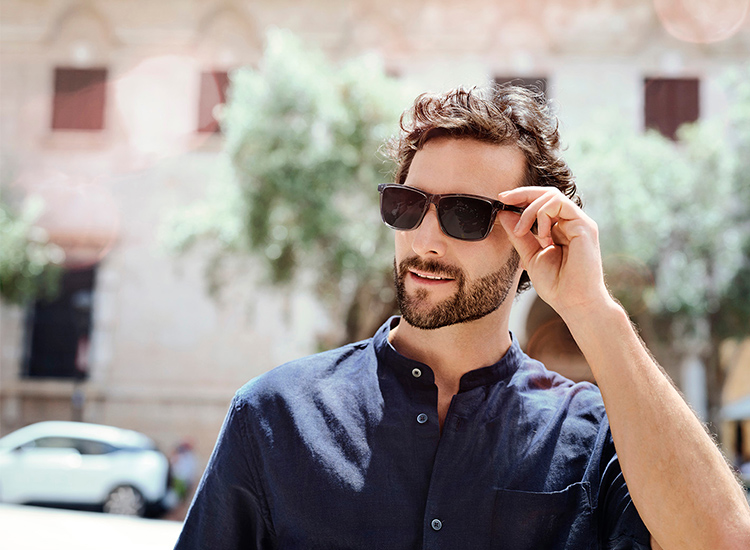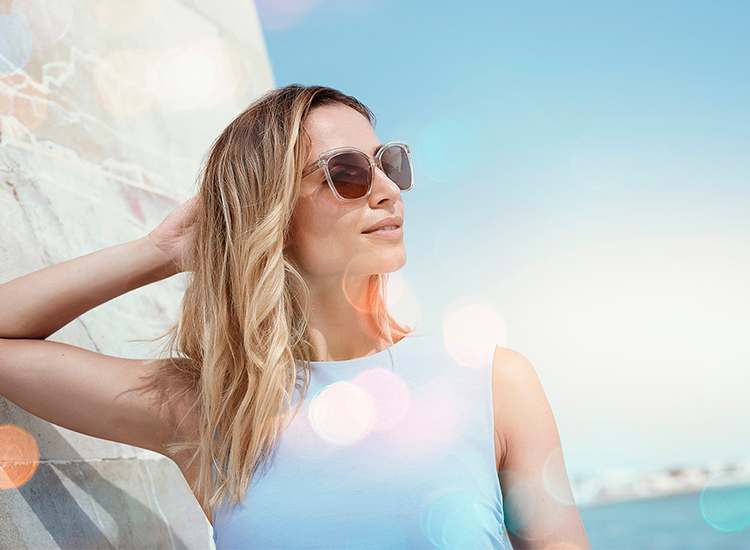 Lambda Lens Technology
Sunglass lenses for more details
As an expert in biometric lenses, Rodenstock has set itself the goal of helping people achieve sharper vision - and that also applies to sunglass lenses with and without prescription.
With the innovative Lambda Lens Technology, Rodenstock offers sunglass lenses that specifically optimise contrasts and improve both depth perception and detail sharpness. Contrasts are created by less blue light passing through the lens. The new Lambda Lens Technology takes advantage of this: it minimizes the amount of blue light that passes through the lenses and thus ensures sharper vision.
More in the video
Combine style and function
Colour gradients and trend colours
Whether lenses with colour gradient or in the latest trend colours from the seasonal collection - the Rodenstock lens portfolio for your sunglasses offers the ideal combination of function and style.
Tints and colours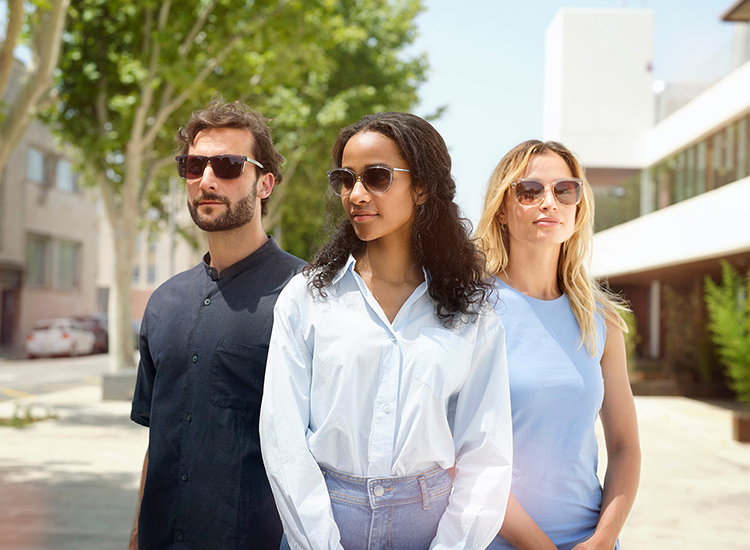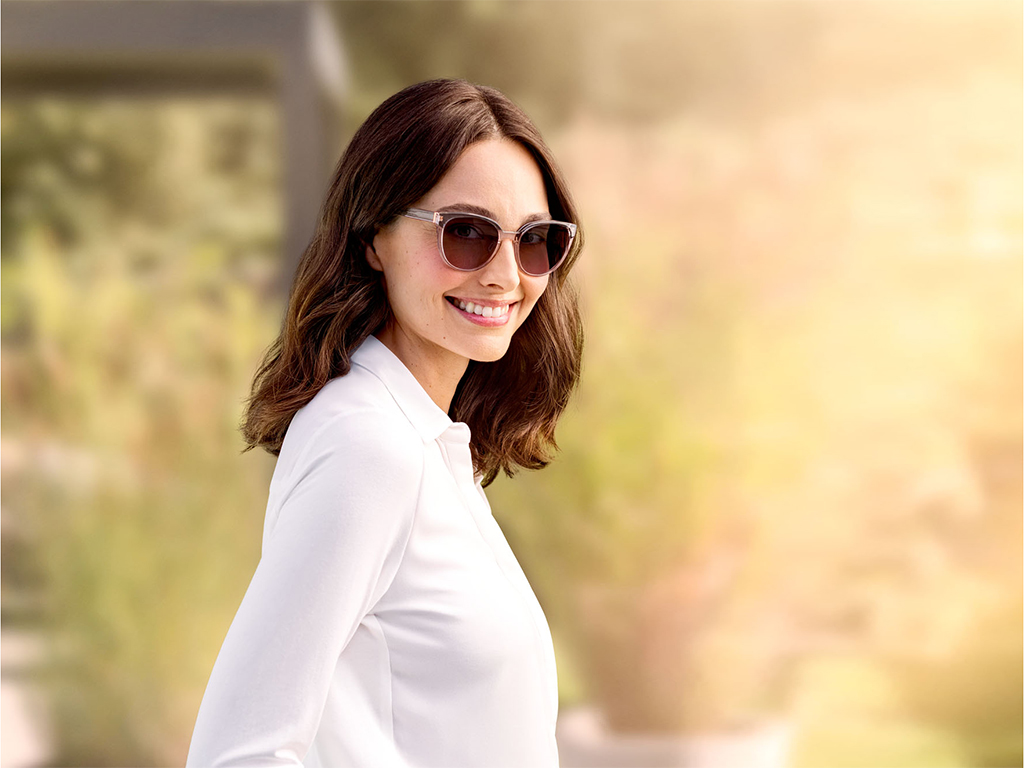 Intelligent sun protection
Self-tinting sun protection lenses from Rodenstock.
Our self-tinting sun protection lenses ColorMatic® 3 Sun adapt to the respective lighting conditions in record time. In strong sunlight they protect your eyes with a dark tint. If you switch to the shade, the lenses automatically brighten by up to 55%. This guarantees clear, high-contrast vision round the clock, also in changing lighting conditions.

More in the video
Polarised sun protection lenses offer more safety and visual comfort outdoors and when driving, especially in strongly reflective areas such as snow or water. The polarising effect ensures a significant reduction of the dazzling effects, good colour perception and a clear detailed view also in difficult lighting conditions – for example in deep snow or in the case of reflections on wet roads. Choose your favourites from three stylish colours: Polarised Brown, Polarised Grey or Polarised Green.

See the effect.

Whether you are on the beach or in the city – with a trendy mirror coating you highlight your individual look. You can choose from three trendy metallic colours for your new Rodenstock sunglasses. The red coated sunglasses not only look cool, but also have an infrared heat filter, reducing the thermal stress on the eye.
Tip: Combine the silver-coloured mirror coating Solitaire® Silver Moon or the red Solitaire® Red Sun 2 with self-tinting sun protection lenses – for complete and intelligent sun protection.

Sunglasses generally do lots of travelling: When strolling through the city or playing sports, at the beach and in the bag. The premium Solitaire® Protect Sun 2 coating with CleanCoat protects your sunglasses against dirt and scratches and makes cleaning easier, thus ensuring you get long enjoyment out of your sunglasses. Sun cream, dust and sand particles or water splashes stand no chance.
The coating also provides additional protection for your eyes by absorbing not only frontal sunlight, but also lateral reflections. So you can fully enjoy the summer.
The right sunglasses for special cases.
A good pair of sunglasses can do much more than just protect against the sun: Whether for different sports, long drives, comfortable everyday life or even for therapeutic purposes – discover the right Rodenstock solution for your needs now.
Sports sunglassesWould you like a pair of sunglasses for sports or do you often get active outdoors?
Find out more.
Medical solutionsPeople with eye diseases, with high sensitivity to light, after eye surgeries benefit from these special filter lenses.
Find out more
Your new look
Rodenstock sunglasses for ladies and men.
Whether you are after the latest trend or timeless elegance – a strong design is always part and parcel of a pair of Rodenstock sunglasses. Just like top quality: Rodenstock spectacle frames combine innovative technologies, best materials and precise processing. Be inspired and discover the frame that best matches your style.
The effect of polarizing lenses
Especially on water or in the mountains the glare of the sun is omni-present due to strong light reflections on reflective surfaces such as wet roads, water or snow. With the Polarized Portfolio glare-free and relaxed vision is guaranteed as the annoying reflections are almost eliminated with the lenses. Polarized sunglasses are perfect for driving, sailing, surfing, as well as for eyes that are sensitive to light.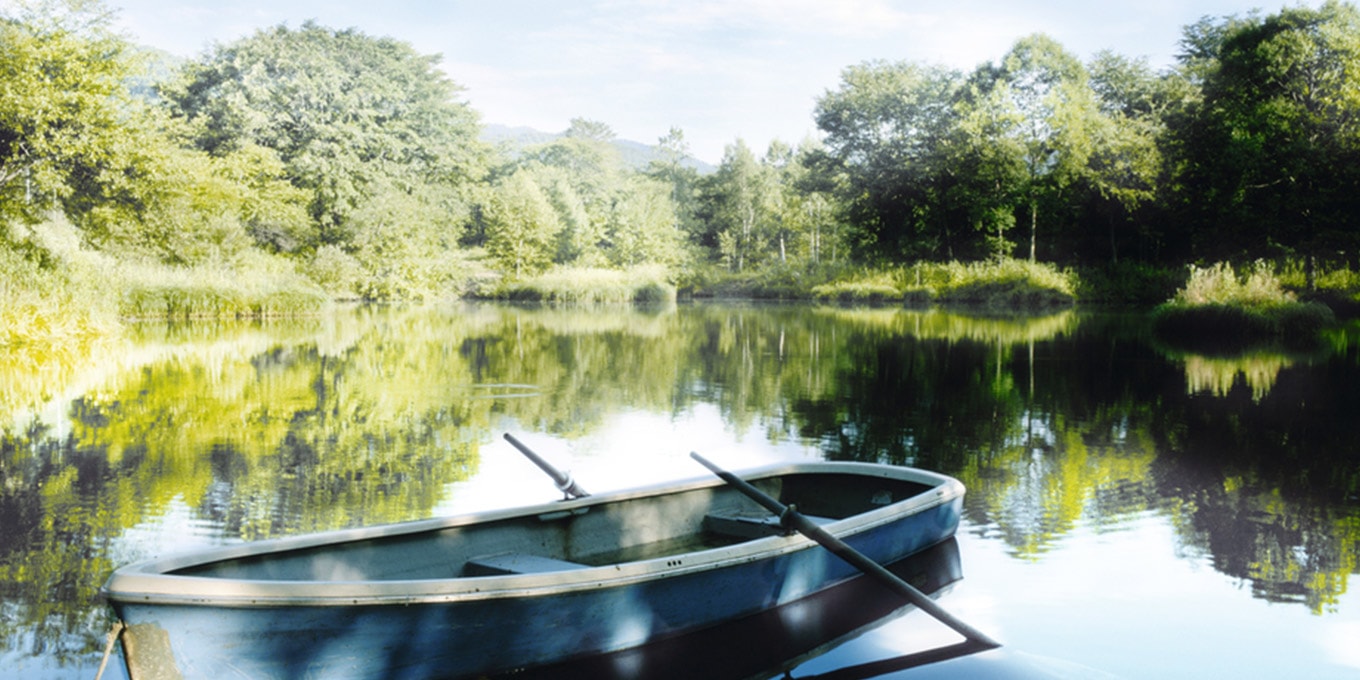 Non Polarized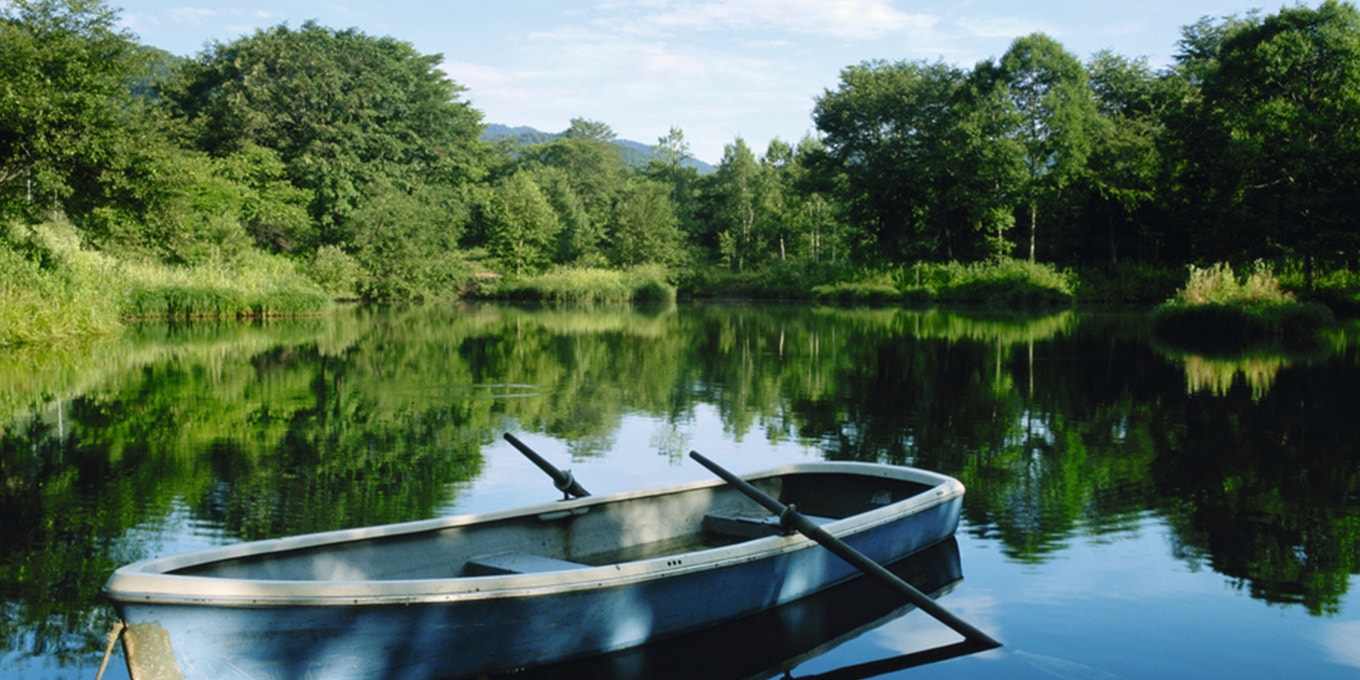 Polarized
Increased safety and visual comfort during sports activities specially in the mountains or on water
Glare-free, relaxed vision without fatigue
Intensive perception of contrasts and details
Available in the colours Polarized Brown, Polarized Grey and Polarized Green
Edge filter for medical applications.
Medical edge filters are special filter lenses, which reduce glare for different eye diseases and ensure increased contrast perception by reducing short-wave blue light. These medical filter lenses also make it possible for the eye to adapt to changing lighting conditions in brighter environments quicker. The quality of life can be improved considerably whilst the existing vision potential is fully exhausted.
Improved glare protection for eye diseases
Better contrast perception thanks to stronger absorption of short-wave blue light
Protection against harmful UV light and potentially harmful blue light (except L400 (12%): This provides no protection against potentially harmful blue light.)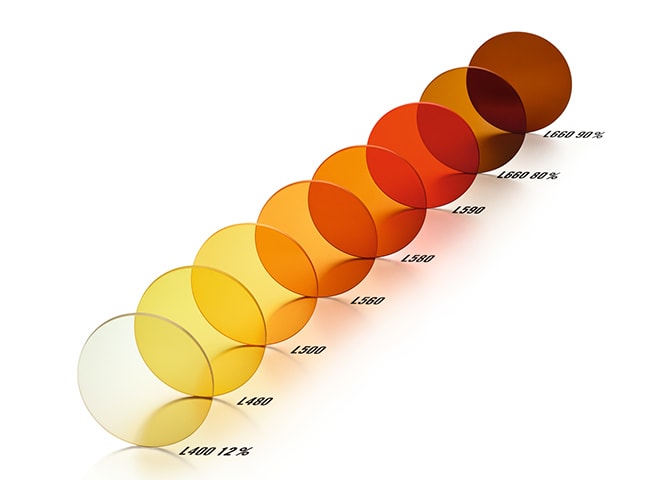 The Rodenstock variety of colours



Individual colour gradients for your sunglasses
Lenses with a gradient tint offer excellent protection against glare in the upper field of vision, i.e. for distance vision. In the lower field of vision, i.e. for near vision, on the other hand, they offer a clearer view due to the less pronounced tint. This makes them the ideal choice for reading, driving and other diverse activities.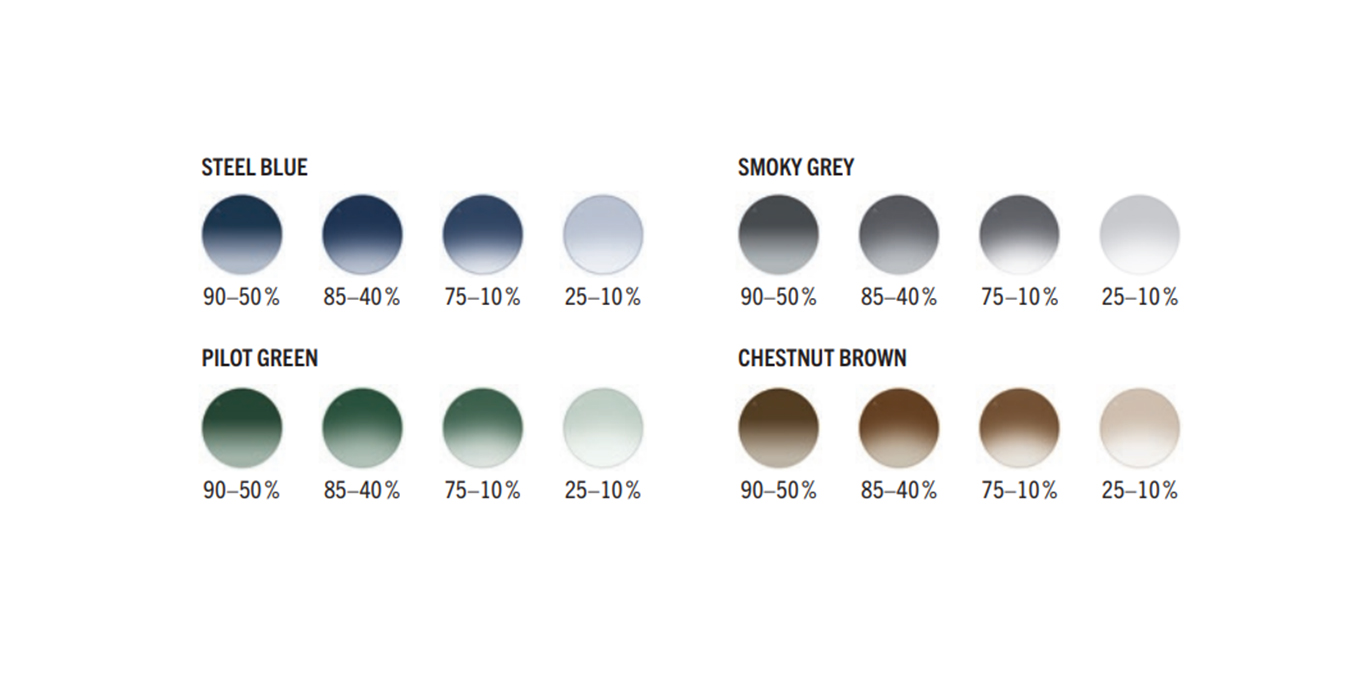 Seasonal trend colours
Young, dynamic, smart. Our special seasonal colour portfolio impresses with an exclusive selection of stylish colour gradients. All shades provide 100% UV and glare protection and can be used for sunglasses with or without prescription.

Did you know?
The percentage indicate how much light the sunglass lens absorbs, depending on its tint. For example, with an absorption of 85%, 85% of visible light is absorbed by the lens and the remaining 15% passes through the lens.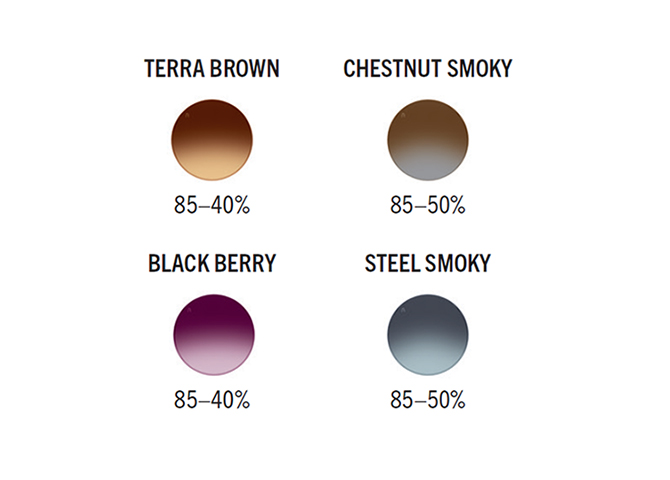 Your appointment request has been successfully sent to
You will shortly receive an email confirming the data that has been sent to the optician. The optician will contact you directly to set-up your appointment.
BACK TO HOME
Unfortunately your request could not be sent!
Please try again.