Continuous sharp vision
Optimal vision up close, at a distance, and in the intermediate range with Rodenstock progressive lenses.
As the name suggests, a progressive lens provides progressive power, and infinitely variable sharp vision at all distances. Because progressive lenses are able to correct defective vision for far and near at the same time. As there is no visible edge in the lens and the power changes are not recognisable from the outside, progressive lenses also have aesthetic benefits.
Presbyopia eye test
When would a progressive lens be useful?
Our eyes change as we get older. This means that when we become middle-aged the eye lens is no longer quite as elastic. It becomes increasingly difficult for the eyes to switch between near and distance vision – the eyes need some assistance. Progressive lenses are the ideal solution here. Because with progressive lenses you don't have the annoying and inconvenient task of changing spectacles.
Test your presbyopia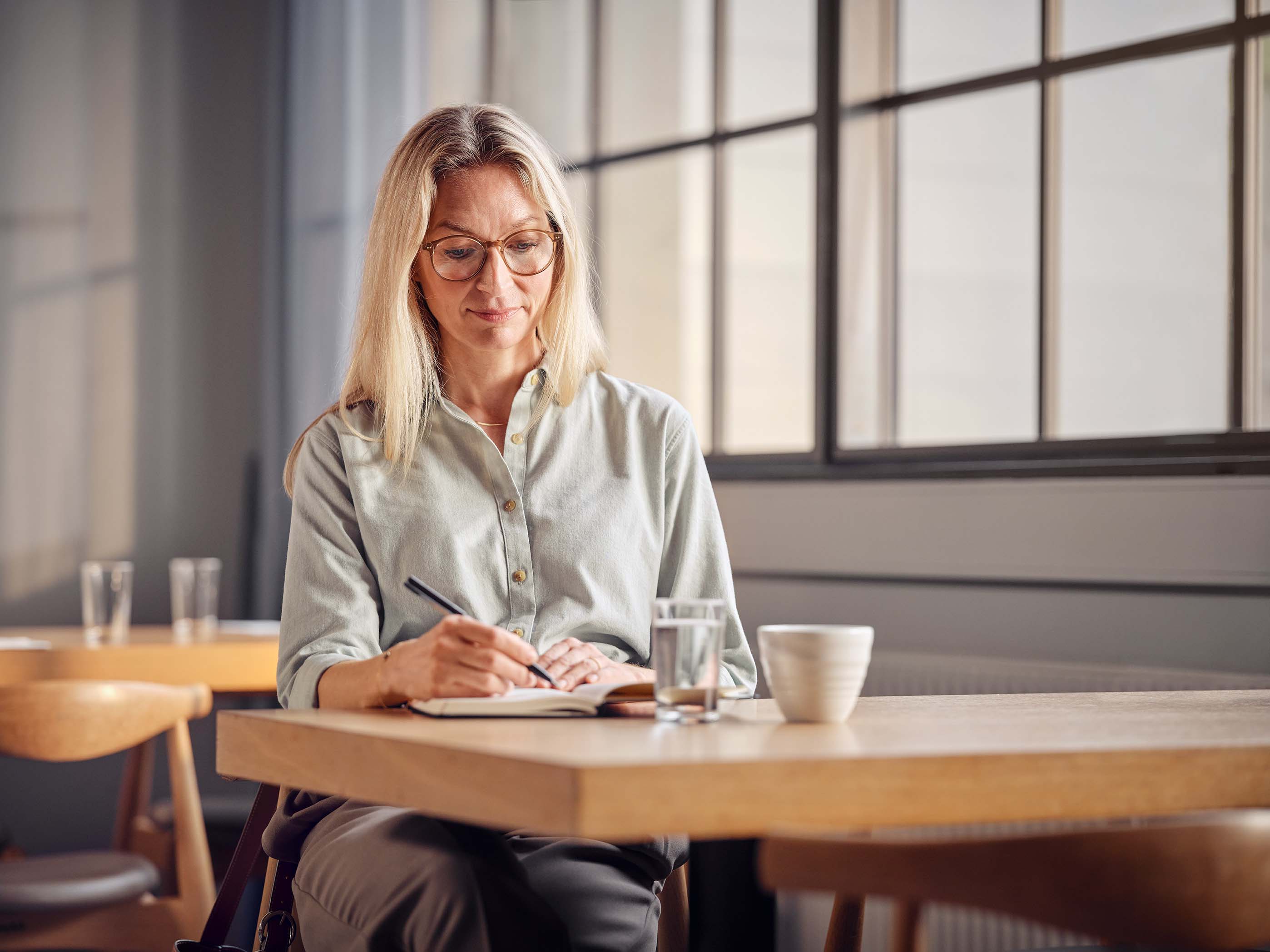 Customised progressive lenses –
Your individual masterpiece from Rodenstock.
Rodenstock progressive lenses are always individually tailored to your eyes. In addition, they should also match the individual viewing habits of your life. Depending on whether you spend a lot of time sitting at the desk or are frequently outdoors, the fields of vision for near and distance, as well as in the intermediate range, should be different. The latest generation of our progressive lenses, Impression FreeSign® PRO with superb compatibility, offers optimised fields of visions to match your lifestyle.
The best vision ever from Rodenstock – with the Impression FreeSign® PRO progressive lenses.
Short acclimatisation period thanks to maximum wearer tolerance
Infinitely variable sharp visionup close and at a distance, as well as in the intermediate range
Optimised fields of visionadapted to your individual lifestyle
No 'swim' effectsi.e. lines and layers are also not blurred or distorted at the peripheral zones
Minimal reflections and supreme aestheticsfor optimal vision and a natural look
Safety, day after day Protection against potentially harmful high-energy blue light and 100% UV protection
Excellent spatial perceptionalso in the peripheral zones
Your advantage
Optimal field of vision
Large, individually optimised wide field of vision – Do you lead an active lifestyle and spend a lot of time outdoors? Or are you often working on a laptop and like to read? The field of vision of your Rodenstock progressive lenses is specially adapted to your personal lifestyle and your viewing habits!

Peripheral zones - Depending on the quality of the lens, the size of the peripheral zones looks different. The higher the quality, the smaller the peripheral zones.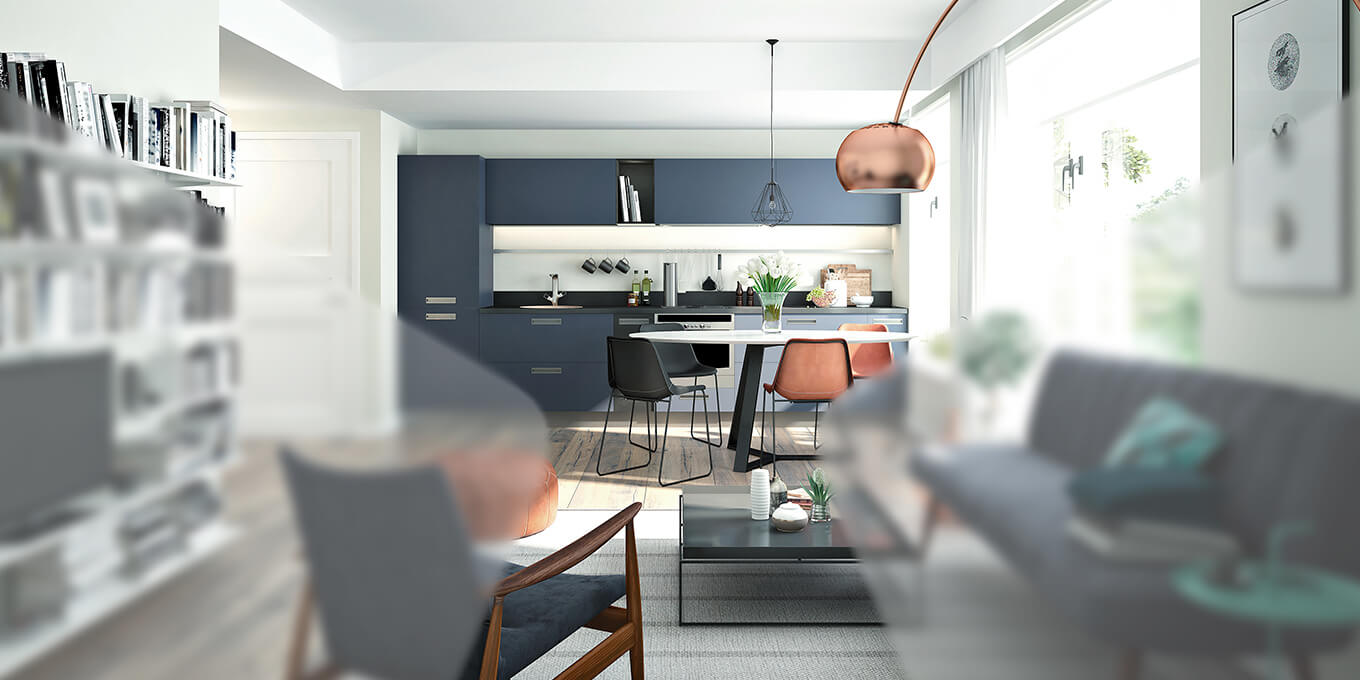 Traditional progressive lens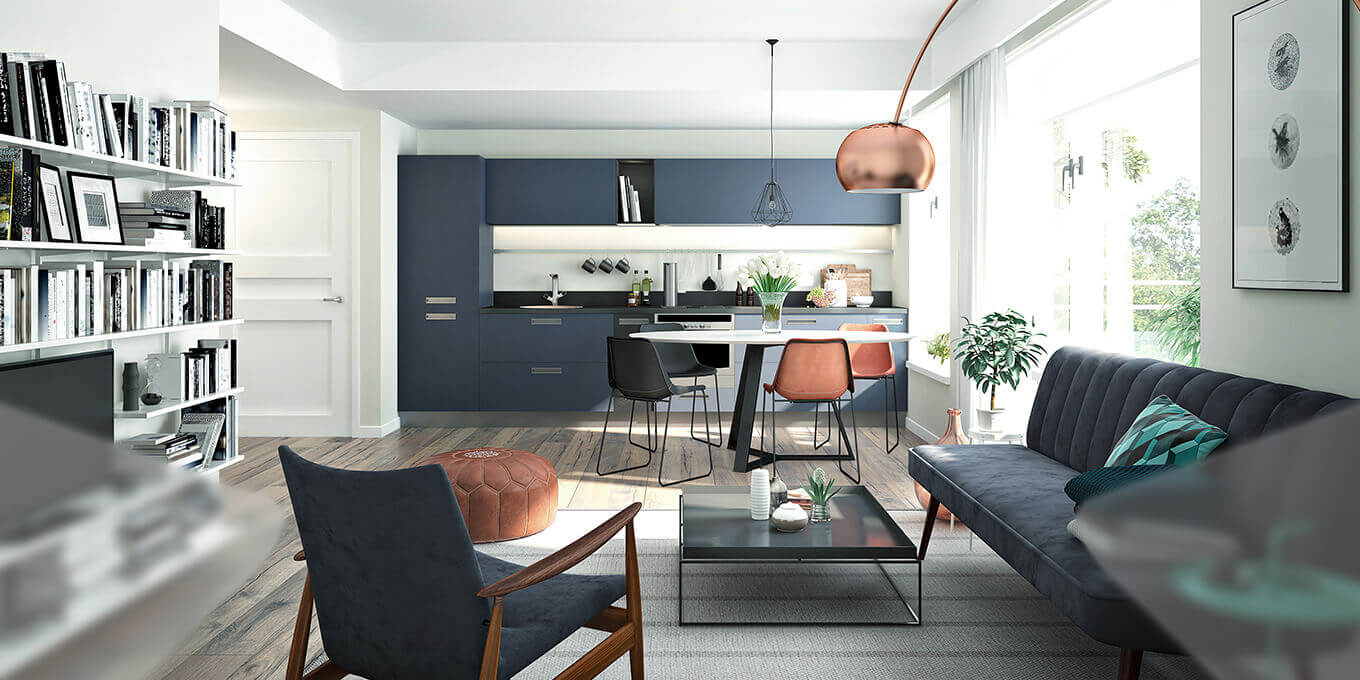 Rodenstock progressive lens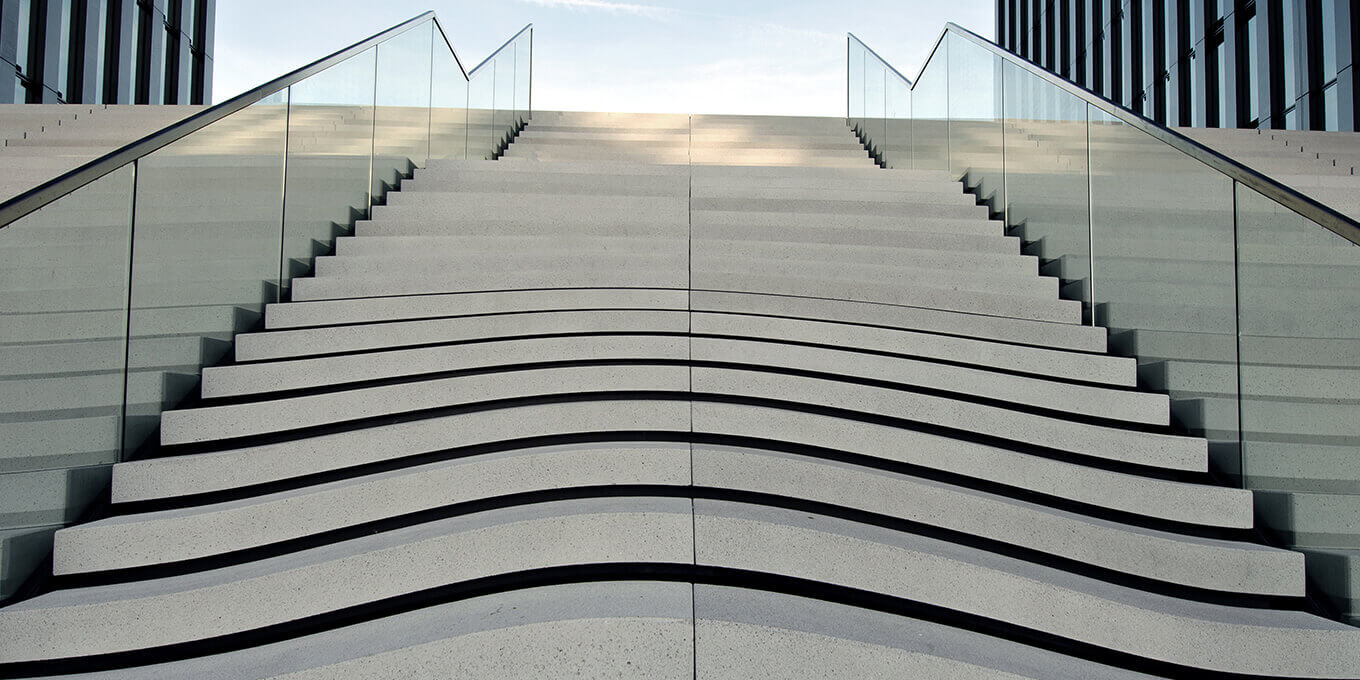 Traditional progressive lens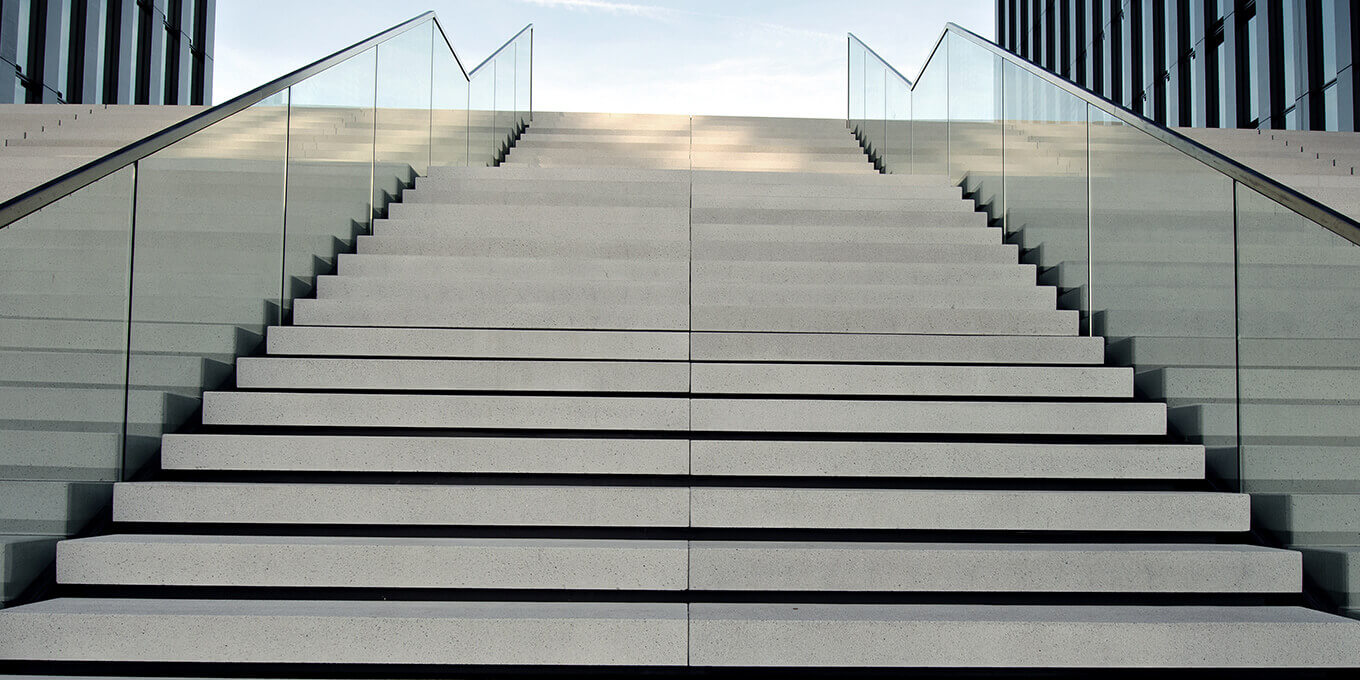 Rodenstock progressive lens
Your advantage
No 'swim' effects
No 'swim' effects - With Rodenstock progressive lenses, lines and layers no longer appear distorted or blurred in the peripheral zones.
How your customised Rodenstock progressive lens is produced.
Every progressive lens from Rodenstock is unique. Ultimately every eye is different. This is why numerous individual measured values, both of your eyes and also the fit of the spectacles on your face, are incorporated in the bespoke manufacture of your Rodenstock progressive lenses. With the use of innovative technologies, spectacles are made that are perfectly adapted to your eyes and your face – so that you see better and sharper than ever before.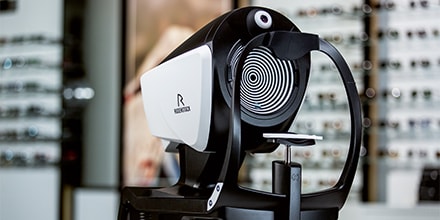 1. Innovative eye measurement
With the DNEye® Scanner we measure your eyes at over 7,000 points. This way we can detect every individual detail.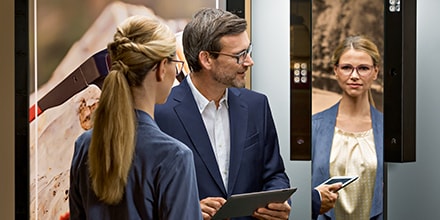 2. 3D lens measurement
With a 3D video measurement the ImpressionIST® calculates all important values in order to optimally adapt the lenses to the frame and face.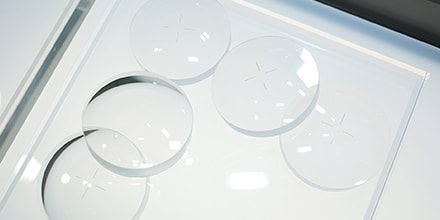 3. Perfect bespoke manufacture
The actual trick now lies in creating the ideal spectacle lenses using the determined values. The calculation and production are effected at Rodenstock.
What should one bear in mind with progressive lenses?
Every eye is as unique as you are. How should an 'off-the-shelf' pair of spectacles meet your individual requirements? Thanks to the high-precision eye measurement with the Rodenstock DNEye® Scanner, we are able to measure all individual aberrations and take them into consideration when making the lenses. The result: You have sharper and higher-contrast vision than ever before - this is particularly noticeable at twilight. Superb comfort and optimal compatibility make the individual visual experience perfect.

Changing over to progressive lenses may take some getting used to. But with time, you have reliably trained your sight and can focus normally on the desired distance.
With bespoke progressive lenses from Rodenstock the acclimatisation period is very short, compared with traditional lenses, meaning you have pin-sharp vision at all distances, as quickly as possible.

A pair of spectacles must sit perfectly: They should not pinch or slip down the nose when you move. With the 3D video measurement system, the Rodenstock ImpressionIST®, the shape of your face, your interpupillary distance, as well as all key influencing variables, are measured exactly in combination with the selected frame - for the best possible vision experience.

Seeing through the lens in combination with the natural movements of the eye can lead to undesired 'swim' effects. In addition, a distorting effect occurs at the edge of the lens due to the change of power, unlike with single vision lenses. These annoying and unpleasant 'swim' and distorting effects can cause side effects such as headaches. With bespoke progressive lenses from Rodenstock these effects are reduced to an unnoticeable minimum.
Guaranteed excellence:
Your special spectacles from Rodenstock.
6-month satisfaction guarantee
We guarantee you a smooth acclimatisation period with your Rodenstock progressive lenses. However, if you are not satisfied in the first 6 months, we will replace the spectacles with another product from our range of similar quality.
3-year quality guarantee
We give you a 36-month guarantee on the coating when you purchase spectacles with our premium coatings.
Traveller Service
If your progressive lenses get damaged or lost on a trip abroad, we will send you an emergency set with distance and near-distance spectacles in your prescription directly to your residence. Promptly and free of charge.
Make your progressive lenses "multifunctional" and choose from the following extras:
Premium coatings
Rodenstock Solitaire® 2: Durability, anti-reflection, scratch resistant.
Our Impression FreeSign® PRO progressive lens comes with the Solitaire® Protect PRO 2 coating as standard, which offers comprehensive light protection and superb aesthetics.
With our other premium coatings you can make your spectacles even more resistant or low maintenance and easy to clean. Whether it is protection against dirt and dust, the latest generation of UV protection, or relaxed vision with the reduction of artificial light from computers, laptops and smartphones - simply ask your optician about the Rodenstock Solitaire® 2 coatings.
So smooth, nothing sticks
Long-lasting vision with X-tra Clean.
Clean lenses the whole day? The new X-tra Clean finish makes it possible. The special optional finish (applied to the front and rear surface of the lens) on Rodenstock premium lenses is the deciding factor here.
The extremely smooth surface means that dirt hardly sticks – and if the lenses do get dirty, it can be easily removed.
Long-lasting, crystal clear view
Fast and simple cleaning of lenses without leaving any streaks or residue
Dirt water and dust repellent properties
How X-tra Clean works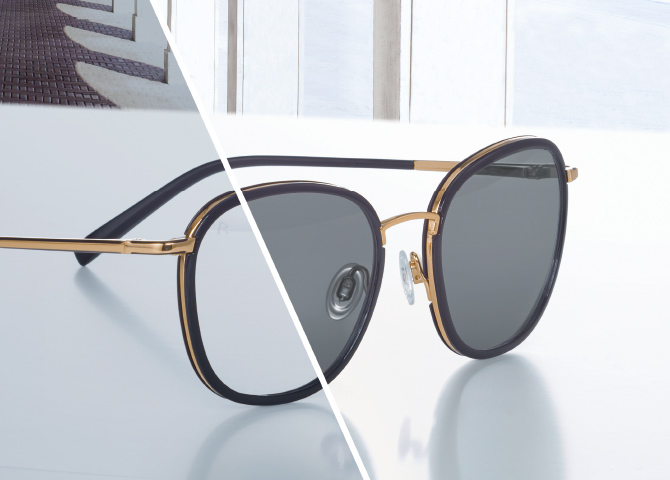 Perfect vision in any light condition
Self-tinting lenses from Rodenstock.
Our self-tinting spectacles ColorMatic IQ® 2 automatically adapt to every light situation, providing comfortable and anti-glare vision at all times. They are crystal clear inside and change colour outdoors, depending on the light intensity.The fast brightening and darkening reduced the fatigue of your eyes, when changing between different lighting conditions. Our 100% UV protection up to 400 nm provides optimal protection of the eyes, as well as eye area and prevents premature ageing of the skin.
HOW COLORMATIC IQ® 2 WORKS
Protection for your eyes
Rodenstock light protection PRO410.
UV-rays can be harmful for your eyes as well as your skin and can even penetrate through the clouds of an overcast sky. Next to the UV-radiation in the spectrum is blue light. It is important for biorhythms and other biological functions of the body. As well as the positive effects, certain elements of blue light can also be potentially harmful.
The formula of success is the right relation. With Rodenstock light protection PRO410 your eyes only get the light they really need – day by day.
The right frame for your progressive lenses.
As a manufacturer of lenses and frames, we offer you perfect quality from a single source. Spectacle frames from Rodenstock combine innovative technologies and materials with a classic and traditional, as well as timeless and stylish, design. They are also perfectly tailored to their spectacle wearers. All frames from Rodenstock can be fitted with progressive lenses. Frames with large lenses are particularly suitable.
Show all spectacle frames
Innovative eye measurement
Firstly, your eyes are measured with the ultramodern Rodenstock DNEye® Scanner. The measurement is fully automatic and very precise at over 7,000 measuring points.
Unlike traditional measuring devices, the DNEye® Scanner not only records the standard values for myopia (short-sightedness) and hyperopia (long-sightedness) and astigmatism, but far more e.g. the reaction of your pupil during the day and at night as well as the corresponding changes in vision. This way individual aberrations are also detected, which are responsible for reduced contrast sensitivity and poor vision at twilight, for example.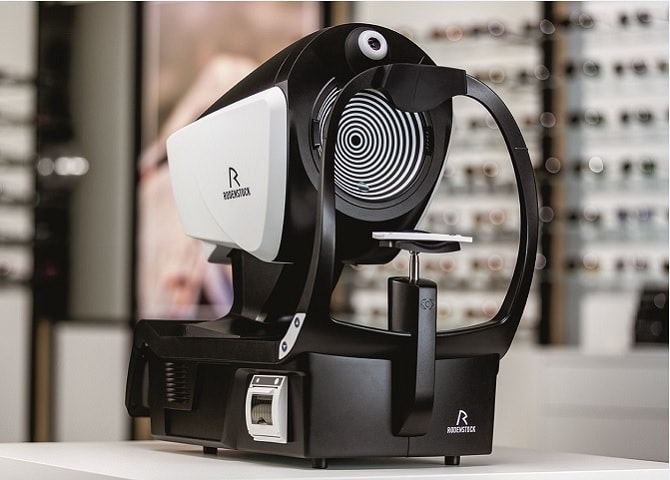 3D lens measurement
How the spectacles sit on your face plays a decisive role in the manufacture of customised lenses. The key measurement data is collected with the Rodenstock ImpressionIST®, a 3D video centration system.
You simply look into the mirror attached at the ImpressionIST®. You are captured from two perspectives by two cameras. Using these images, parameters of your face combined with the selected frame are measured exactly, as is the distance between the pupils and their diameter.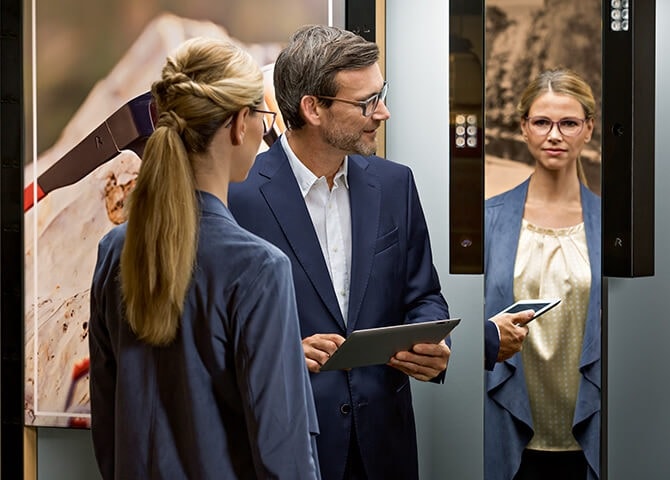 Test for presbyopia
What visual acuity do you have in the immediate working distance
Do the self-test for an initial assessment!
Download our template and print it out.
Hold the page 40 cm from your eyes. This corresponds roughly to a typical reading distance.
Read through line after line. Remember the value before the last line that you can still clearly and easily detect.
Download
test-for-presbyopia.pdf (18 KB)
The value that you remembered describes your visual acuity for near vision.

Visual acuity 0.8 to 1.0:
Congratulations! These values represent normal to very good vision. Repeat the test regularly to check your visual acuity.

Visual acuity 0.4 to 0.6:
These values are considered "reduced" and you probably need spectacles. A professional test with an optician or ophthalmologist is recommended!

Visual acuity 0.1 to 0.32:
Values in this range are considered as "visually impaired". You should therefore visit an optician or ophthalmologist straight away!
Your appointment request has been successfully sent to
You will shortly receive an email confirming the data that has been sent to the optician. The optician will contact you directly to set-up your appointment.
BACK TO HOME
Unfortunately your request could not be sent!
Please try again.