good vision, safe driving
The first driving spectacles with TÜV certificate.
Many circumstances when motorists feel uncertain have to do with vision problems: dazzle, darkness, poor weather conditions, confusing or unclear spatial situations. That's why Rodenstock developed spectacles that also enable you to drive calmly and with reassurance in these situations. Good vision, safe journey – as confirmed by the TÜV:
* Within the framework of the user test, the progressive lens Impression® Road 2 was tested with regard to decisive criteria for safe driving (acclimatisation period, field of vision, dazzling effects and glare, contrast, colour reproduction and cleaning).
Optimal for frequent drivers
Driving spectacles for mobile use in everyday life.
Whether you are a business traveller, commuter or holiday driver; individuals who spend a great deal of time on the road with the car are familiar with the challenges that the eyes have to overcome: changing lighting conditions, dazzle by headlights, reflecting lanes, etc. With driving spectacles your travel is more relaxed and safer.

Change spectacles? No need.

Because Rodenstock Road lenses are not "only" designed for driving. Properties such as optimal spatial vision and fatigue-free vision, despite difficult lighting conditions, can also be enjoyed after exiting the car. Simply use your new driving spectacles as an ideal pair of spectacles for the entire day.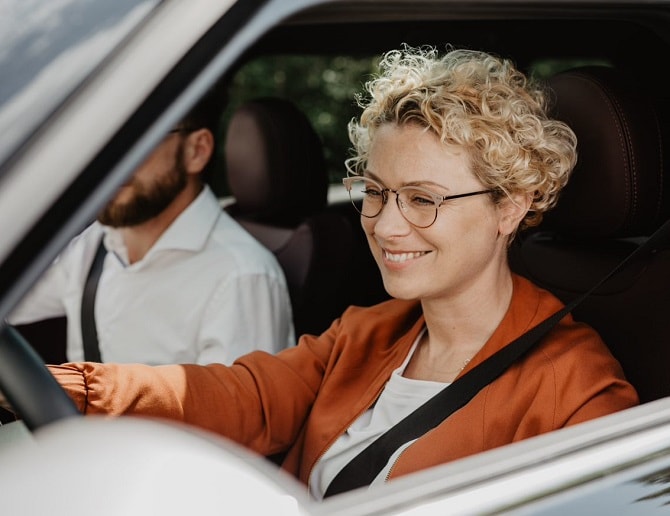 Most definitely a good choice: Rodenstock Road driving spectacles.
Safe driving and confidence are inextricably linked to good vision – this applies all the more to spectacle wearers behind the wheel. Rodenstock driving spectacles are made especially for your special needs. Discover the benefits of innovative technologies such as DNEye® eye measurement, the special Solitaire® 2 coating, and more now:
Pin-sharp and high-contrast vision,also in poor lighting conditions
Safe spatial visionthanks to individual power optimisation
Reduced dazzle effectsthanks to a special lens coating
Also an ideal companion in day-to-day lifee.g. when shopping, enjoying hobbies or at work
Solitaire® Protect Road 2
Reduced dazzling effects
This innovative coating reduces dazzling effects, e.g. caused by modern xenon or LED headlights. Annoying light reflections, e.g. from wet roads, are also reduced significantly. During the day the contrast enhancing effect ensures relaxed driving. By the way: Your driving spectacles are particularly dust repellent and easy to clean thanks to the special coating.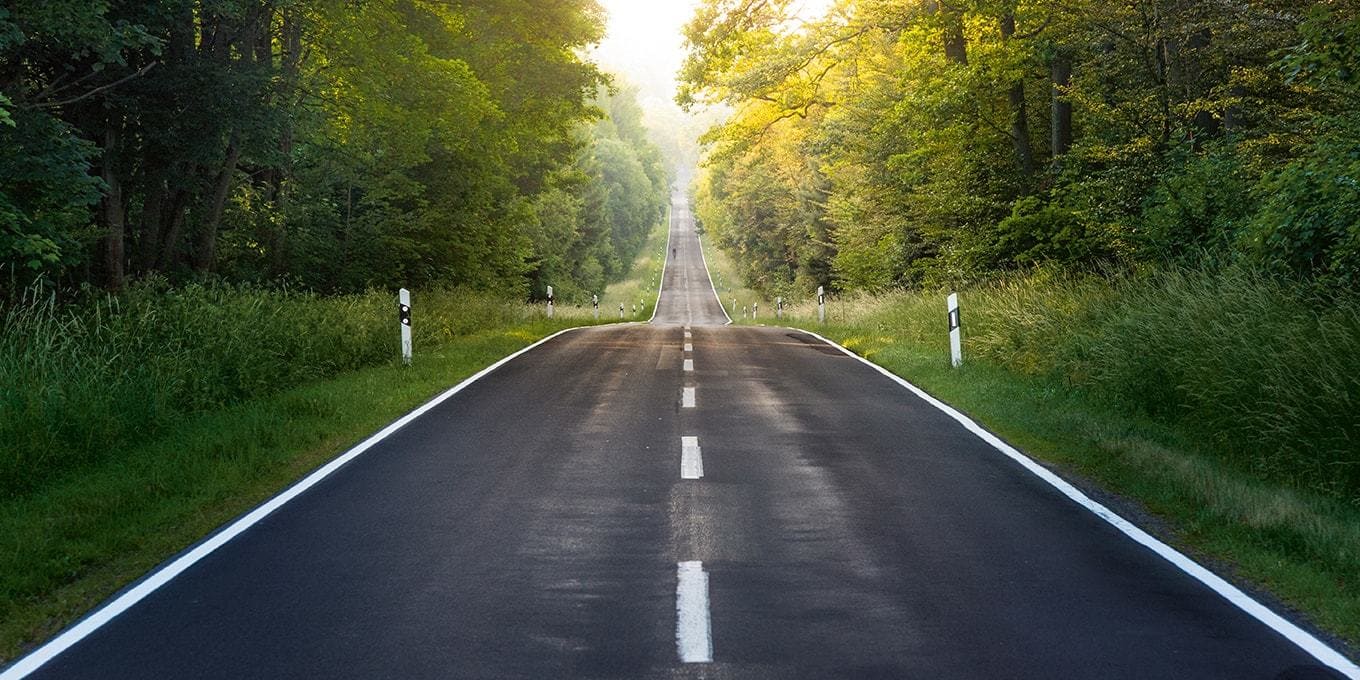 Rodenstock spectacles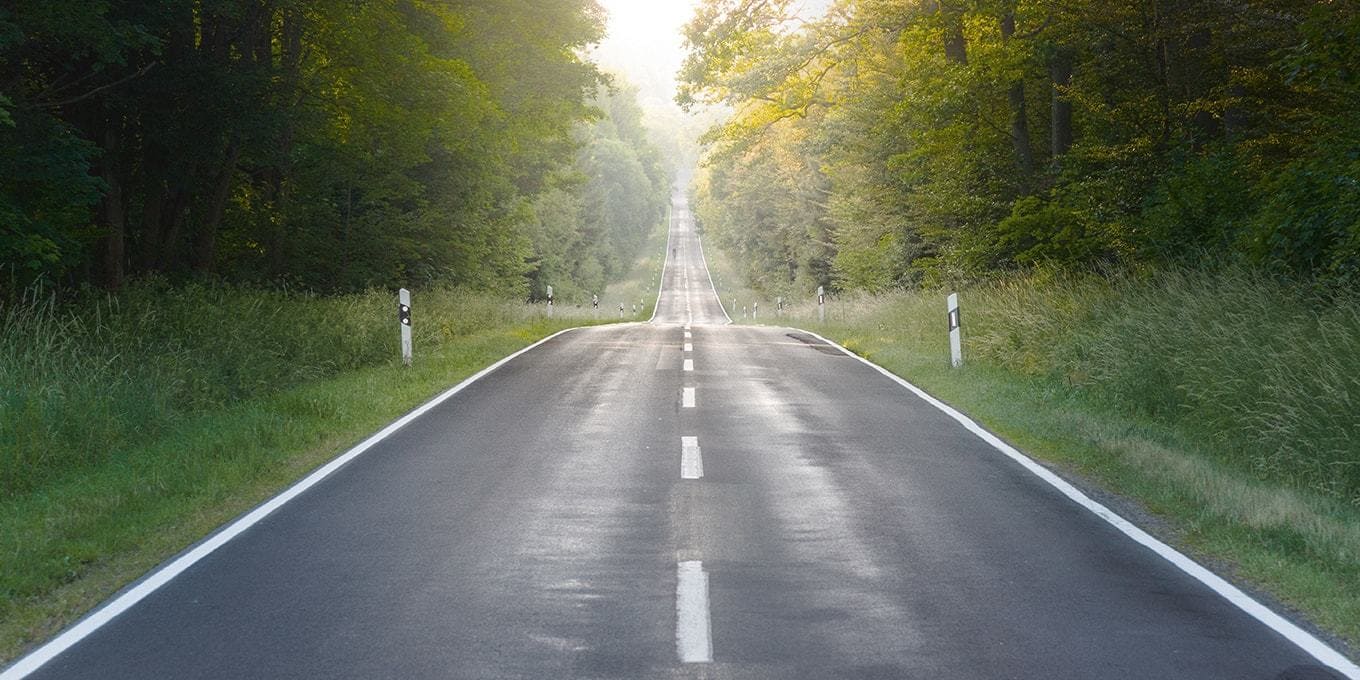 Traditional spectacles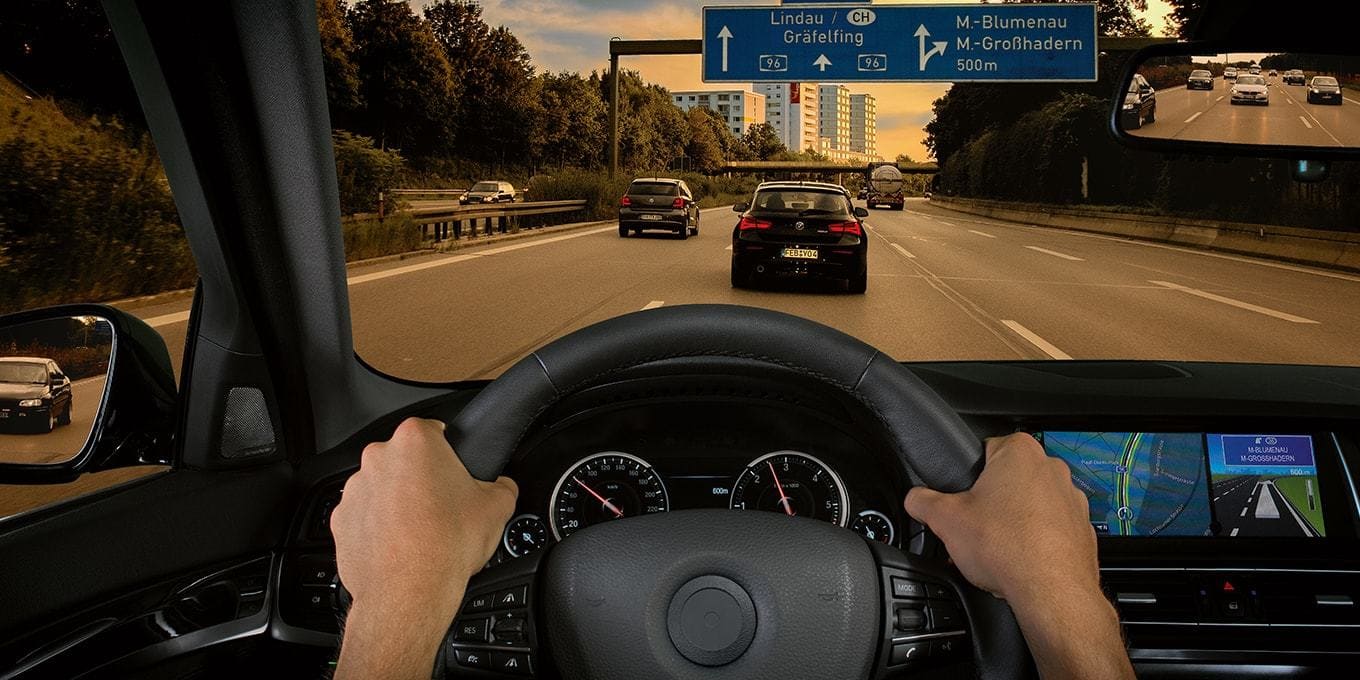 Rodenstock spectacles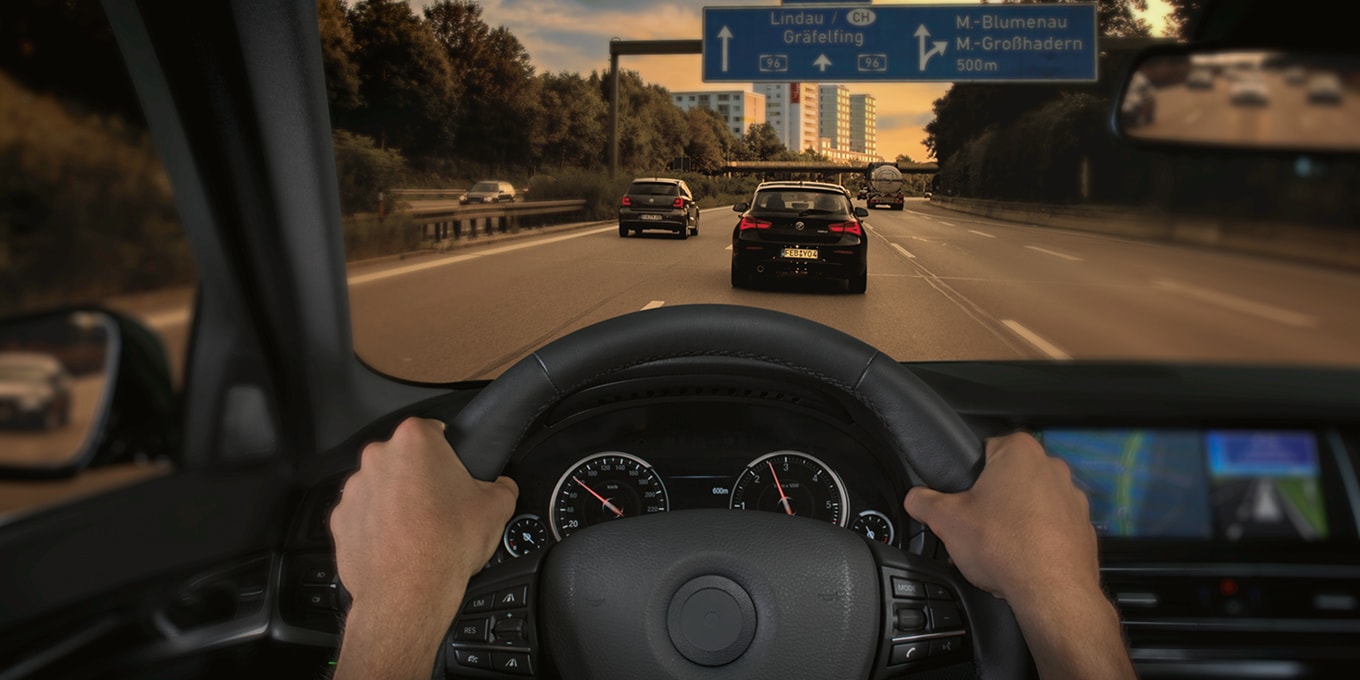 Traditional spectacles
Symmetrical fields of vision
Good spatial vision
The safe and reliable assessment of distances when parking and overtaking depends on spatial vision. However, this is precisely what can be affected among spectacle wearers with different values in the left and right eye. The power-optimised driving spectacles from Rodenstock balance this: They ensure symmetrical fields of vision between both eyes and thus safe three-dimensional vision.
DNEye® eye measurement
Better night vision
Many people feel less confident when driving at night. The reason: In the dark the pupils are dilated and light beams are refracted differently, creating a blurred image. With the DNEye® measurement device from Rodenstock this effect is detected and individually corrected. Your Rodenstock driving spectacles ensure pin-sharp and high-contrast vision, particularly in poor lighting conditions.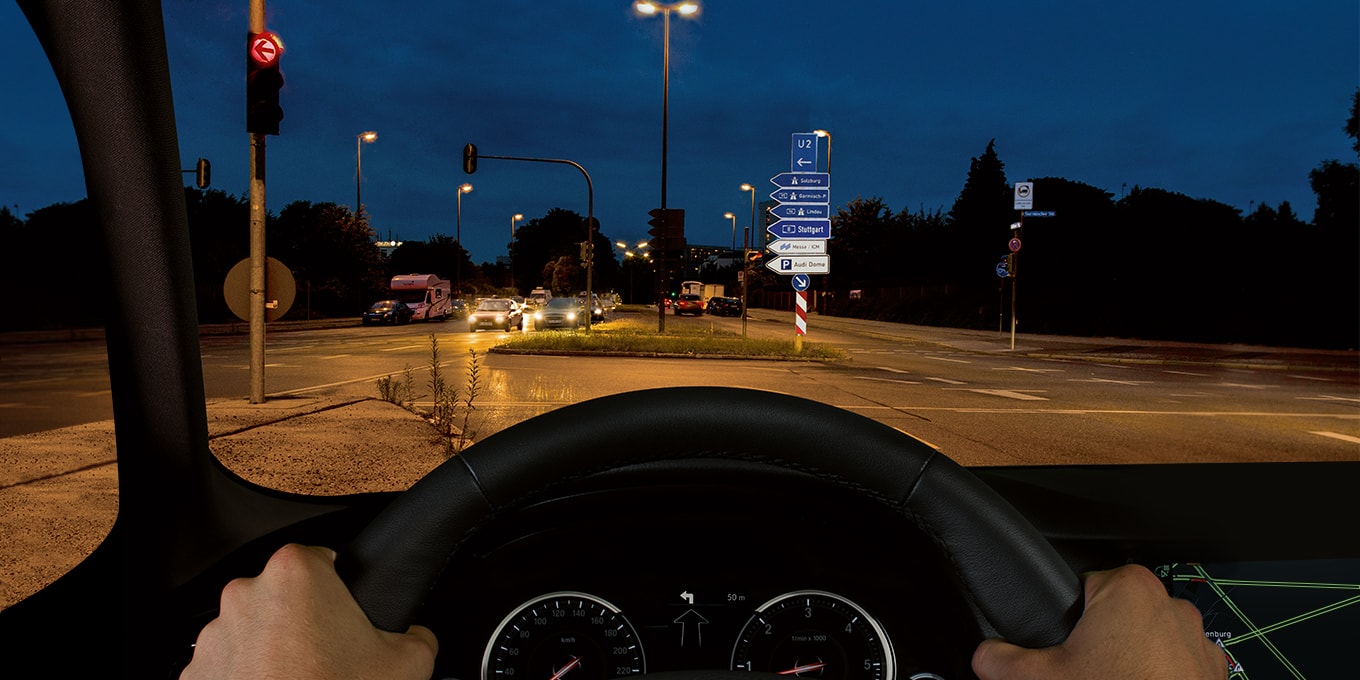 Rodenstock spectacles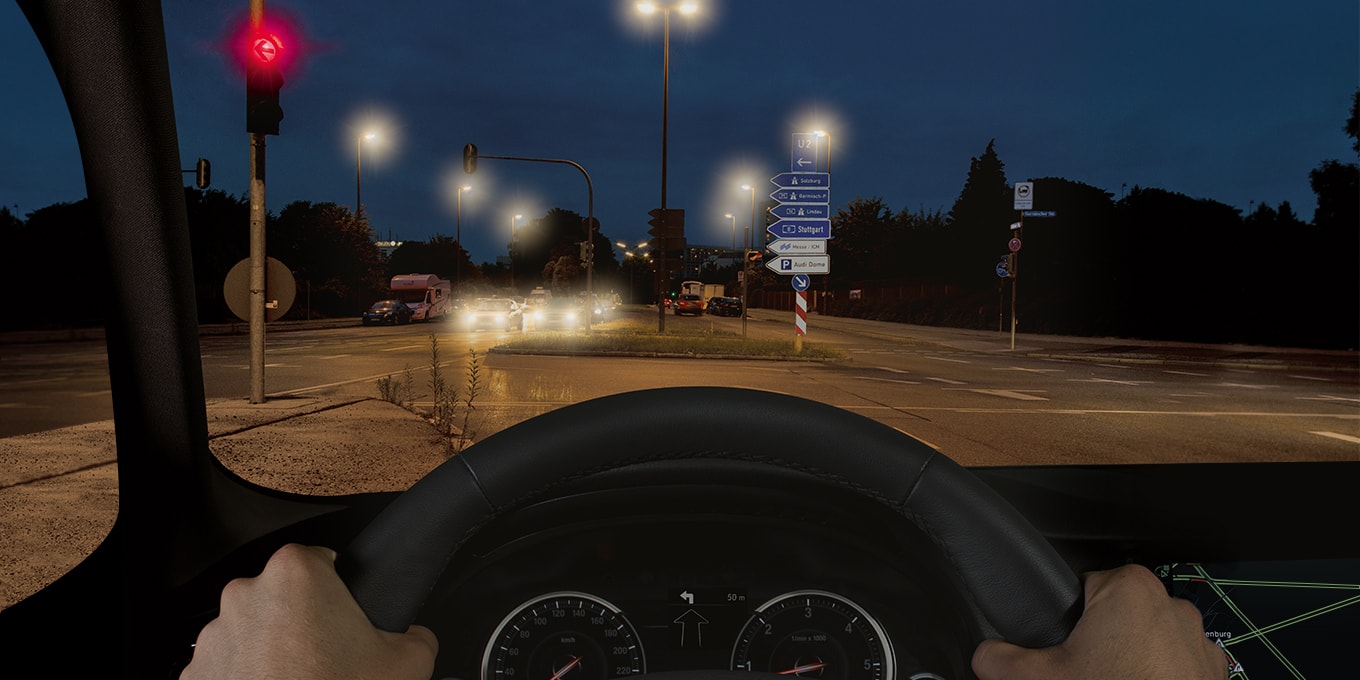 Traditional spectacles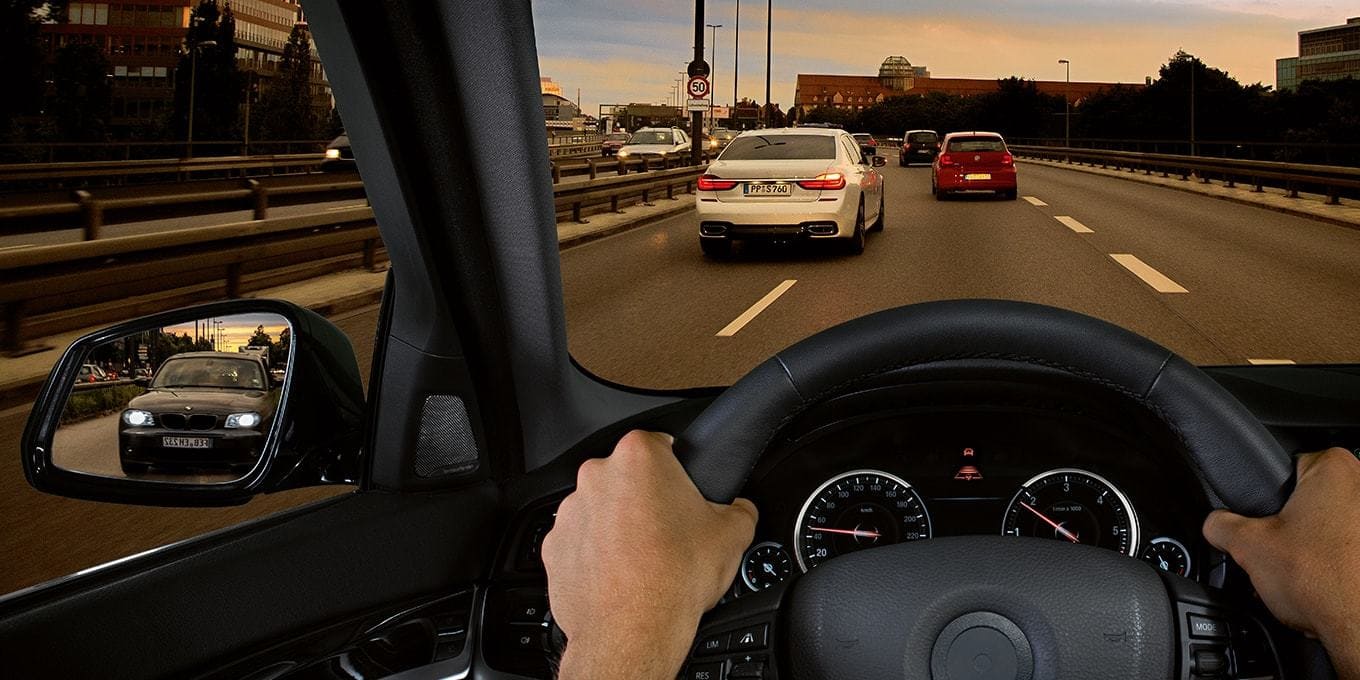 Rodenstock spectacles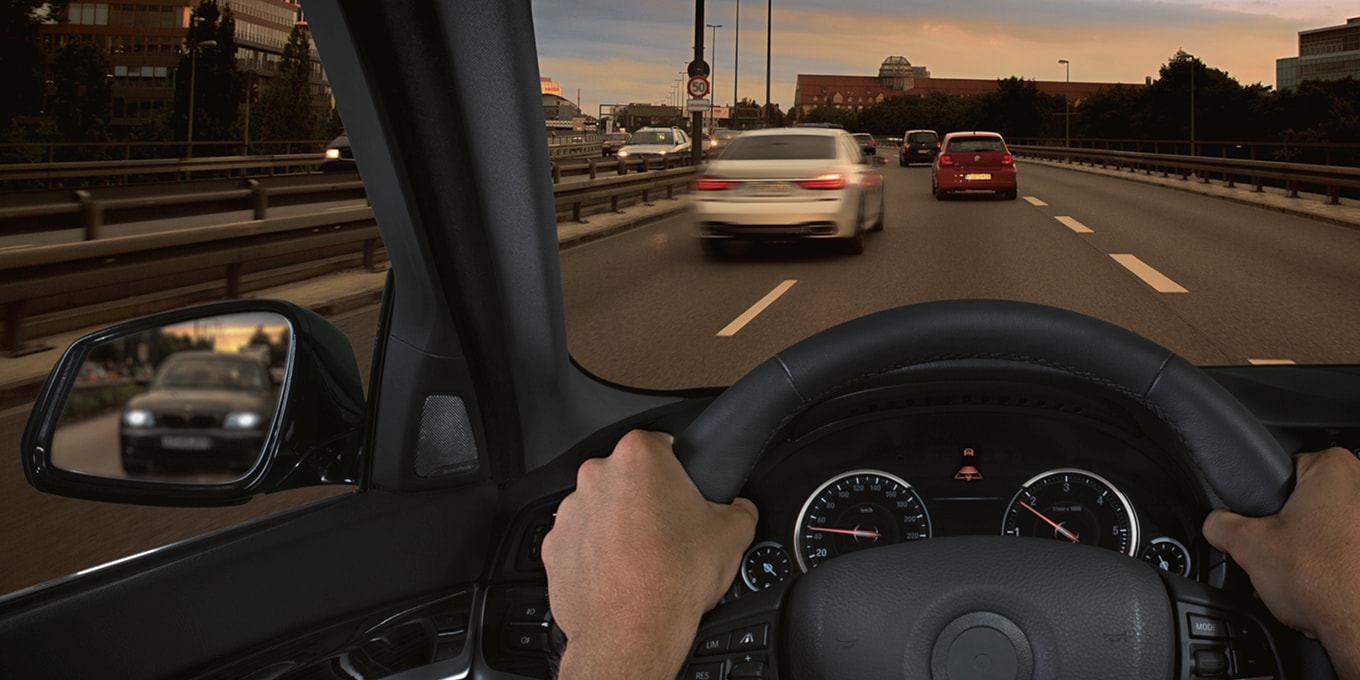 Traditional spectacles
Large fields of view
Rapid change of focus
When driving your eyes have to quickly adapt to different distances – from the road to the navigation device, to the mirror and back. The Rodenstock Road lenses are adapted precisely to these dynamic requirements. Very large visual fields ensure all-round sharp vision, perfect for rapid change of focus.
How your individual Rodenstock driving spectacles are produced.
Every pair of spectacles from Rodenstock is unique. Because each eye and every driver are different. In order to fulfil the different requirements, the individual parameters of your eye and the selected frame are included in the bespoke manufacture of your Rodenstock lenses. A lens that is perfectly adapted to your eyes and takes you to your destination in a more relaxed manner is produced with the use of innovative technologies.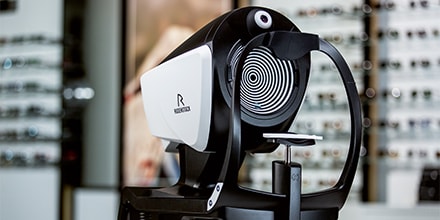 1. Innovative eye measurement
With the DNEye® Scanner we measure your eyes at over 7,000 points. This way we can detect every individual detail.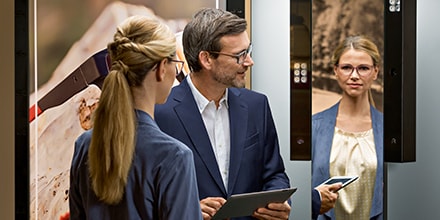 3D lens measurement
With a 3D video measurement the ImpressionIST® calculates all important values in order to optimally adapt the lenses to the frame and face.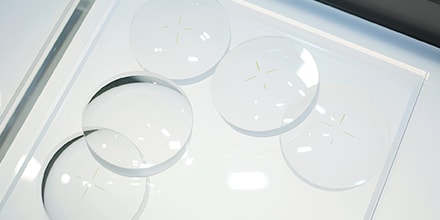 Perfect bespoke manufacture
The actual trick now lies in creating the ideal spectacle lenses using the determined values. The calculation and production are effected at Rodenstock.
Destination: Your personal driving spectacles.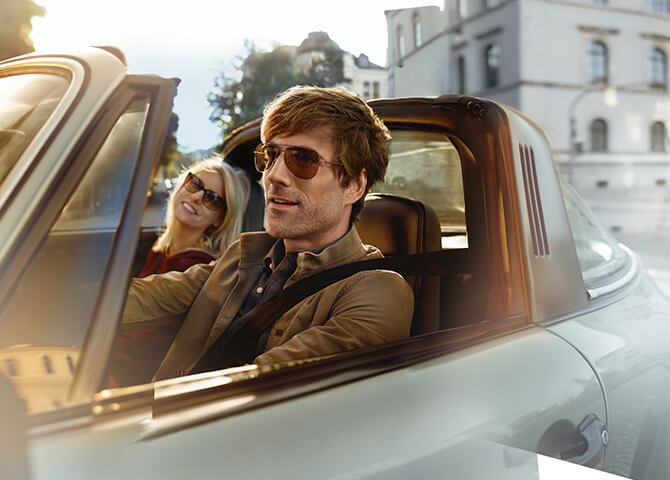 The sunglasses for behind the wheel
Rodenstock Road Sun.
The risk of an accident may increase when vision is restricted in the summer by bright, glaring sunlight or a low-lying sun. The solution: Rodenstock Road sunglasses with the specially developed brown tint reduces the glare of the sun, and is still bright enough to be able to read the display and navigation system. And you are of course also well-equipped on foot.
For visual comfort in all distances
Progressive lenses for drivers.
Especially when driving a seamless change between seeing at near to far distances is required. A progressive lens is ideal here: Different fields of view are invisibly merged in the progressive lens. You have effortlessly sharp vision at all distances. And in terms of appearance progressive lenses do not differ from a "normal" pair of spectacles.
How progressive lenses work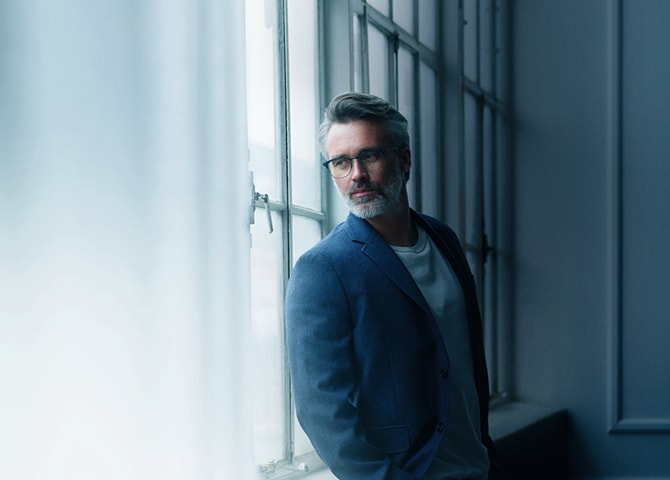 The right frame for your driving spectacles.
As a manufacturer of lenses and frames, Rodenstock offers you driving spectacles complete with their frames from a single source. Rodenstock spectacle frames combine innovative technologies and materials with a stylish design and a diverse range. For motorists there are frames with larger lenses and narrow sides that sit higher on the frame. Spectacle frames with curved lenses help to reduce the annoying lateral light incidence.
Show all spectacle frames
Guaranteed excellence:
Your driving spectacles from Rodenstock.
6-month satisfaction guarantee.
We guarantee you a smooth acclimatisation period with your Rodenstock spectacles. However, if you are not satisfied in the first 6 months, we will replace the spectacles with another product from our range of similar quality.
2-year quality guarantee.
We guarantee the function and durability of your new Rodenstock spectacles. If there is a quality defect within 24 months of purchase, you will receive an identical replacement pair of spectacles free of charge from your optician.
3-year quality guarantee on premium coatings.
We give you a 36-month guarantee on the coating when you purchase spectacles with our premium coatings.
Your appointment request has been successfully sent to
You will shortly receive an email confirming the data that has been sent to the optician. The optician will contact you directly to set-up your appointment.
BACK TO HOME
Unfortunately your request could not be sent!
Please try again.