Individualised lenses with the revolutionary
DNEye® eye measurement.
Experience the revolutionary eyesight test with the Rodenstock DNEye® Scanner.
Unique in the world with more than 7,000 measurement points transferred into your individual lens.
The only way to experience perfect vision.
DNEye® optimised lenses give you the following benefits: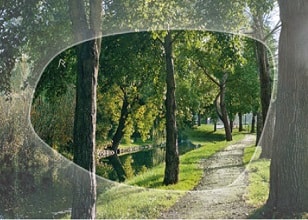 High-contrast vision like never before.
Sharpest contrast.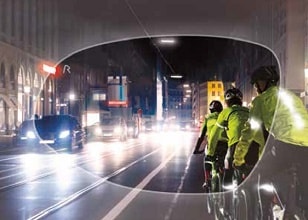 Safe vision like never before.
Best night vision.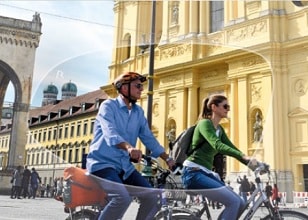 Natural vision like never before.
Largest fields of vision.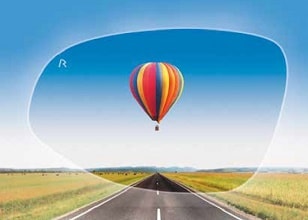 Colourful vision like never before.
Natural visual experiences.
With the high-precision 3D eye measurement of the DNEye® Scanner from Rodenstock, we measure your eyes more precisely
than ever before. The measured biometric values are integrated into your lenses. In doing so, you receive the most individual and
perfect Rodenstock lenses and thus the sharpest vision of all time.

Available as single vision lenses and progressive lenses.
The new dimension of vision.
Since 1900, a general model of the human eye has been used for the measurement of the eye and the calculation of lenses.
Over time, technology and lenses have continuously improved. But the so-called "Gullstrand Eye" as the standard calculation basis remained the same.
Now, Rodenstock has broken new ground to replace the "Gullstrand's Eye".
With the DNEye® PRO technology, the individual anatomy of the eye is measured. As one of the world's leading manufacturers, Rodenstock is also able to transmit the measured values ​​to the lens.
START VIDEO

What our customers think:
Comfortable vision.
88% experience greater visual comfort with their DNEye® spectacles compared to their previous spectacles.*
Enthusiastic customers.
98% would recommend Rodenstock lenses with DNEye® to others.*
New experience of vision.
92% see sharper than before with their new lenses.*
*Study with independent opticians in cooperation with Rodenstock (Switzerland) AG (283 end consumers), May 2017 to January 2018. Corresponds to selection 1 + 2 on rating scale between 1–4 (1 = fully agree, 4 = not at all)
Your appointment request has been successfully sent to
You will shortly receive an email confirming the data that has been sent to the optician. The optician will contact you directly to set-up your appointment.
BACK TO HOME
Unfortunately your request could not be sent!
Please try again.