Optimal lenses for exceptional visual requirements.
Special lenses for hobby and job, with serious defective vision – as experts for special lenses the Rodenstock factory gladly accepts every challenge!
Special lensesfor very special visual requirements
Top qualitysometimes even handmade for you
Optimal wearing comfort & aestheticsalso with higher power
The right lens for your very individual requirements.
Every pair of eyes is unique. And many are so unique that only specially made lenses are worth considering. As in the case of extreme myopia (short-sightedness) with up to -47 diopters or severe hyperopia (long-sightedness) with up to +35 diopters. We also manufacture customised spectacle solutions for special requirements after a cataract operation or for accommodative squinting in children.

Good vision in professional life is indispensable for surgeons, pilots, tradesmen or proofreaders.
We offer special lenses precisely for these customers in which the fields of vision are individually arranged: for example with the near vision range in the upper part of the lens for tradesmen who work overhead or for pilots who must be able to detect instruments in the upper area of the cockpit.

Visual aids of yore were not always particularly good, but they did have a particular charm. Today many people still like to immerse themselves in the era of lorgnettes, pince nez, monocles and opera glasses and want to not only look at these items, but also use them. We equip your treasures with special lenses in your prescription. That way you enjoy the aesthetics of the good old days with the visual comfort of today.

Glistening colourful fish and fantastic reefs: Anyone who has discovered the unique underwater world wants to see it again and again – and as clearly as possible. That's why the Rodenstock factory offers lenses for diving goggles that are simply integrated into the diving mask. Whether short or long sighted, from –10 to +10 dioptres: We offer the perfect vision solution, allowing you to experience the fascination of the sea, time and time again.
How your very special spectacles solution is produced.
Every lens that leaves the Rodenstock factory is unique. Experienced specialists use custom developed machines in order to fulfil the most individual customer requirements, again and again. If the technology can no longer deliver the desired precision, our factory employees even manufacture the lenses by hand using all their experience and know-how.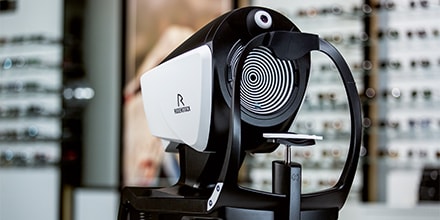 1. Innovative eye measurement
With the DNEye® Scanner we measure your eyes at over 7,000 points. This way we can detect every individual detail.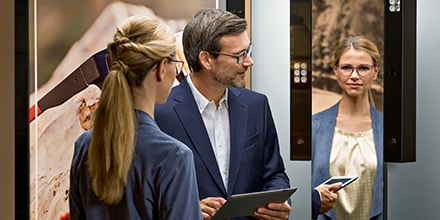 2. 3D lens measurement
With a 3D video measurement the ImpressionIST® calculates all important values in order to optimally adapt the lenses to the frame and face.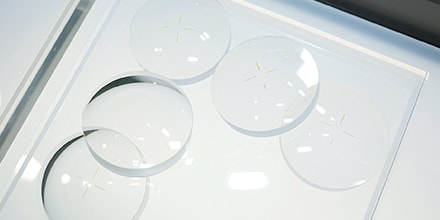 3. Perfect bespoke manufacture
The actual trick now lies in creating the ideal spectacle lenses using the determined values. The calculation and production are effected at Rodenstock.
Guaranteed excellence:
Your spectacles from Rodenstock.
6-month satisfaction guarantee.
We guarantee you a smooth acclimatisation period with your Rodenstock spectacles. However, if you are not satisfied in the first 6 months, we will replace the spectacles with another product from our range of similar quality.
2-year quality guarantee.
We guarantee the function and durability of your new Rodenstock spectacles. If there is a quality defect within 24 months of purchase, you will receive an identical replacement pair of spectacles free of charge from your optician.
3-year quality guarantee on premium coatings.
We give you a 36-month guarantee on the coating when you purchase spectacles with our premium coatings.
Your appointment request has been successfully sent to
You will shortly receive an email confirming the data that has been sent to the optician. The optician will contact you directly to set-up your appointment.
BACK TO HOME
Unfortunately your request could not be sent!
Please try again.