The key to understanding the breakthrough technology behind Biometric Intelligent Glasses starts with recognising that you don't actually see with your eyes – you see with your brain.
In order to enjoy the best vision possible, your glasses have to be able to provide your brain with the very best input. When your brain receives that input, it can accurately orientate what's going on around you so you can decide what to focus on, and then act accordingly. This is exactly what Biometric Intelligent Glasses do for you.
Human vision consists of two subsystems:
focus vision and peripheral vision
Our vision consists of two subsystems that simultaneously work together with the brain: focus vision and peripheral vision. We use our peripheral vision to orientate ourselves and detect motion in our environment, while our focus vision moves to whatever point of interest the brain picks up on, no matter if it is near or far away. Based on this input, your brain then decides how to act on the information received.
Eye movement is continuous. In fact, the human eye moves up to 250,000 times a day. This means our vision is constantly in a dynamic state, focusing at near, mid and far distances while we use our peripheral vision to orientate ourselves as the eye moves.

This is why it's so important that progressive lenses support vision at every angle – and not just at one focus point in the middle. But, in order for them to do that, you need precise data on the individual eye – because every eye is different.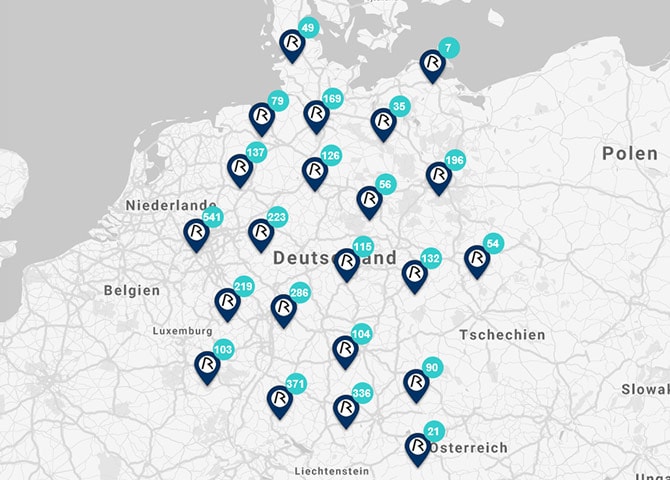 WHERE TO GET B.I.G. VISION™
B.I.G. Vision™ starts with our patented DNEye® Scanner. This breakthrough technology measures more eye parameters than any other lens manufacturer. Once these are taken, your optician sends the data digitally to Rodenstock, where we create an extremely rich biometric data set.

We use this data set to produce a precise biometric model of your eyes and then transfer this digitally into each lens during the production process, so your new lenses can be customised according to your unique biometric parameters. After that, we send your Biometric Intelligence Glasses to your optician to give you – and the whole process takes just a few days.

Like to know more? The first step is to find your closest B.I.G. Vision™ optician.
Find an optician
How does B.I.G. Vision™ work?
What makes Rodenstock different is that we use thousands of data points to measure and determine each of your eyes. We determine their length, pupil size, their reaction to different light conditions and much, much more. When combined, this provides us with the information we need to create lenses tailored precisely to suit your own vision needs.
Read more
Your appointment request has been successfully sent to
You will shortly receive an email confirming the data that has been sent to the optician. The optician will contact you directly to set-up your appointment.
BACK TO HOME
Unfortunately your request could not be sent!
Please try again.