Good to know | 10. March 2021
Find the perfect spectacles – with the virtual try-on tool from Rodenstock
Find the frame that suits you. Using our online try-on tool you can test frames from Rodenstock comfortably from your home. Use your camera or upload a photo.

It has never been so easy to find the right frame. Regardless of whether you already have a specific idea or you want to only test out different styles and find inspiration for a new look: Our virtual try-on tool makes this possible for you from the comfort of your home.

The try-on tool offers you an experience like in front of the mirror at your optician – without any time pressure and with impressive proximity to reality. Try on as many frames as you want from the comfort of your couch. All you need is a PC, tablet or smartphone with camera and an Internet connection. You do not have to install a programme - simply start the online try-on experience here.

Four tips for the optimal result
1. Ideally you are in a bright room without many distracting details in the background.

2. Your face should be clearly recognisable: Avoid both indirect facial hair (long hair should be tied back in a ponytail where possible) and wearing accessories: this can delay the image recognition.

3. Preferably no backlighting: Ensure that you do not line up your camera in the direction of a window.

4. Ensure that you have a functioning camera and a good Internet connection.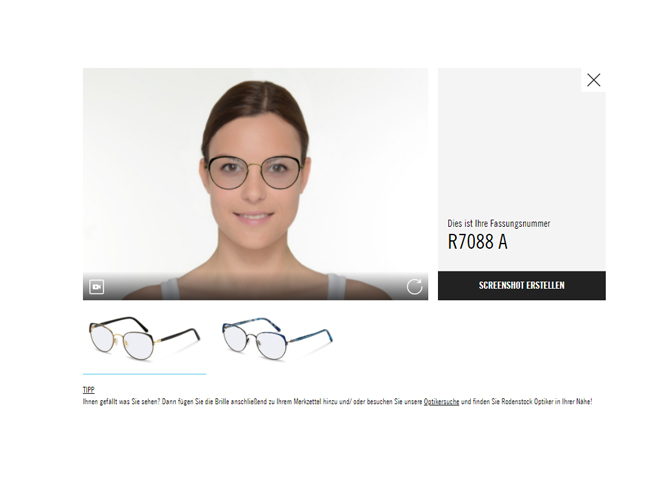 FAQ
Are your images or recordings saved?
No, your image or video is not saved on the Rodenstock or FittingBox servers.

Can I download my image?
Yes, you can save screenshots created within the tool locally on your own computer in order to have them again later. Simply click on "Create screenshot" on the right beside the preview window.

How realistic is an online try-on?
Not every screen has the same resolution. Therefore, the result may vary. However, with a virtual try-on you also achieve a very similar result as with a try-on in the shop. See for yourself how well it works!

Why does the tool not work for me?
Firstly, it may be because you are using an Internet browser that does not support the try-on tool. Ideally use Firefox, Chrome, Edge or Safari in a current version. Also ensure that you have allowed access to your camera when starting the tool.



Your appointment request has been successfully sent to
You will shortly receive an email confirming the data that has been sent to the optician. The optician will contact you directly to set-up your appointment.
BACK TO HOME
Unfortunately your request could not be sent!
Please try again.