Good to know | 10. June 2016
Determine your face shape in three steps.
You generally choose a new pair of spectacles based on your own individual taste. But just like buying clothes, there are also styles and shapes of spectacles that flatter one individual but do not suit another person.
Determine your face shape and find out which spectacles suit you best.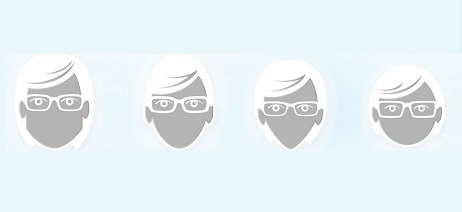 Do you have an angular, oval, heart-shaped or round face? These stereotypical shapes should help you to be better able to categorise your face shape.
Stand in front of a mirror and take the hair away from your face in order to be able to clearly detect your contours. Hold your head upright and look directly in front.

Examine your face length exactly from the hairline to the nose as far as the point of the chin. Which shape best describes your face?

To help determine the shape of your face divide your face into three areas, as well as in the graphic: From the hairline to the eyebrows, from the brow to the tip of the nose and from the nasal tip to the edge of the chin.
Super!
You have now determined your face shape. If you cannot assign your face shape to any of the shapes exactly: no problem! Many people have a mixed shape. In this case please refer to the recommendations and tips for your possible face shapes and choose the style of spectacles you like best.
Your appointment request has been successfully sent to
You will shortly receive an email confirming the data that has been sent to the optician. The optician will contact you directly to set-up your appointment.
BACK TO HOME
Unfortunately your request could not be sent!
Please try again.